When the Blue LLama owner, Don Hicks, opened in 2019, he aimed to blend his (and the publics') love of music and food. 
Since 2019, amazing musicians like Ravi Coltrane and Robert Hurst have passed through the Blue LLama, and the public has indeed enjoyed both music and dining experiences.   
I went to the Blue LLama around 8:30 p.m. one Friday night, to see up-and-coming and all around amazing Jazz vocalist, Samara Joy.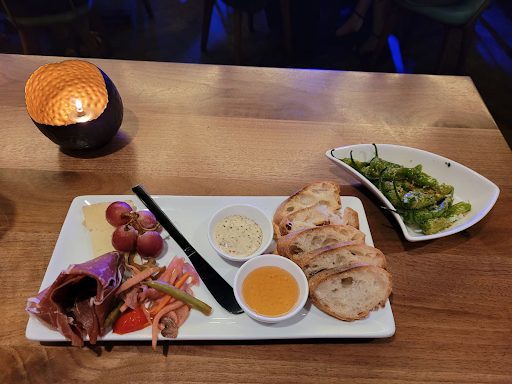 It didn't hurt that I was also served a three course meal during the event! 
We started off the night with a charcuterie board with delicious cured ham, pickled vegetables, a selection of cheeses, glazed grapes, and bread with honey and mustard to sample, as well as green peppers with garlic. 
I also got an excellent cocktail, (this girl can multitask) the "Tresillo," which has a wonderful mix of tequila, mango, tamarind, and chamoy. 
The next course served up deep fried hard boiled eggs and a delightfully tasty and light salad. 
Next, was mashed potatoes and a cut of a perfectly cooked steak. Dessert was creme brulee. 
Picture two: Photo credit Nicole Holtzman. Two of the Blue LLama's drinks are shown. 
As great as the food was, at times it was difficult to pay attention to the food because on stage, Samara Joy was taking the place by storm. 
Joy is in her early twenties but she has already won the 2019 Sarah Vaughn International Jazz Vocal Competition. 
After graduating from college she toured Europe. Joy has come back to the States before the release of her album "Linger Awhile."
Joy has a stage presence that pulls the listener to her. She's elegant, with a quietly confident demeanor. And it's no wonder, Joy grew up in a musical family; her grandparents led the gospel group the Savettes.  
In an interview in the Blue LLama's bio of Joy, she says, "I constantly heard my family singing inspirational music together, which instilled in me an appreciation for my musical lineage." 
Listeners can really hear the training and the traditions behind Joy's voice. Though Joy is a young artist there is a great depth to her voice that only comes with a strong musical knowledge. 
Samara Joy has spent time listening to the jazz greats like Ella Fitzgerald, Sarah Vaughn, and Billie Holiday. The artist must know that her voice bears a strong resemblance to Fitzgerald. In fact, Joy has the most similar voice to Ella Fitzgerald that I've heard in person.  
Joy's first song, "Sweet Pumpkin," was originally written by Ronnell Bright but first recorded in 1959 by Bill Henderson. In her smooth and deep voice, Joy navigated key changes with a relaxed ease. The artist can sing quietly but clearly and then belt out the next notes like the room could never be quiet again.   
Next, Joy sang one of my favorites of hers, "Can't Get Out of This Mood." 
Joy's voice during this song was ethereal, like honey and silk, fluttering. I just finished a novel where a character throws two pillows worth of feathers off of the Eiffel tower. If I had to describe Joy's voice overall, it would be that: so many feathers drifting through the air, making their way down to the ground. 
Later, the artist sang "April in Paris" in English and in French, which was particularly impressive because the artist mentioned not knowing how to speak French. On the plane to France, Joy explained that she used google translate to put together the French for the song. Talk about talent! 
Joy also sang tunes like "Straight Ahead" and Thelonious Monk's "San Francisco Holiday," which was special to hear because it isn't traditionally played with lyrics. Joy led the audience in scatting battles, told charming stories, and performed vocal acrobatics all night. 
There's something really special about Samara Joy. She is a contemporary mix of Nina Simone and Ella Fitzgerald, and something else too, that's completely her own. 
There is power in Joy's performances, such power that even the ridiculously loud bickering couple next to me stopped fighting, made up, and then spent the rest of the evening smiling and singing along to Joy's set! What more could you ask for? 
The Blue LLama did not disappoint in its delivery of a wonderful dinner and show. 
Be sure to check out events like the Marcus Elliot Quartet on September 30th, or the James Carter Trio dinner and show on October 13th.