Ann Arbor born Angelina Nazarian was recently featured on "The Voice" and credits her family, local community and worldwide support for her success.
"I am so lucky to have so many supportive friends and family who have been following this journey with me," Nazarian said. "I think that living in a close-knit community like Ann Arbor has also been so amazing as merely being from here gives me the most amazing support, and especially in being Armenian I get the support from the Armenian community as well. I wouldn't refer to myself as a celebrity but I can definitely say that I felt like one when a few people in Ann Arbor saw me out and about and asked to take a picture with me! Truly a surreal experience."
Nazarian just graduated from high school and was 17 years old when she started filming "The Voice," but turned 18 on September 2.
"I started singing when I was 9 years old," Nazarian said. "I was actually watching different auditions on "The Voice" and "America's Got Talent" and of course, when you're 9 years old you don't limit yourself, so I figured why don't I try singing something like that! In my room I remember I decided to sing Beyoncé's Song "Listen" and my mom walked in and caught me. She asked if it was me or her singing and at that moment my family and I found out that I had a voice. Since then I started involving myself in all music outlets, whether it be posting on social media, musicals at my school, singing for guests at our house, and really just whatever a young kid could do. For me, I think that singing brings me joy because it allows me to express my own emotions whilst invoking them into my audience. When I perform I get to hone in on my physical and emotional body and I get to be a storyteller who brings out the feelings of my listeners. I truly think that it's the emotional factor of singing that makes me enjoy it so much."
Nazarian went to high school in China and Dubai. However, Nazarian was born in Ann Arbor and partially attended middle school at Thurston and was accepted at the University of Michigan. However, she has decided to attend Berklee College of Music in Boston.
Nazarian said she thought about trying to get on "The Voice" while she was getting ready for a test.
"I always wanted to go on "The Voice," but it wasn't until one night in my senior year when I was studying for a French exam that I realized, 'Why haven't I applied yet?' I was actually studying and the urge to film a video and send it in just came over me."
For her video, she chose to sing "How am I supposed to live without you" by Michael Bolton.
The video she made did the trick and she was accepted to perform on "The Voice." Nazarian even has a story for choosing her Blind Audition song.
"The song that I sang for my Blind Audition is 'The Trouble with Love is' by Kelly Clarkson," Nazarian said. "For me, I've always loved music that never dies. Especially from the '90s and 2000s. Kelly Clarkson is truly one of the top vocalists of our generation, and I knew that I wanted to present myself as more than just a singer but someone who truly has the vocal ability and is willing to challenge herself up there."
During her blind audition, both Niall Horan and Reba McEntire volunteered to be her coach, however, she ended up choosing McEntire.
Nazarian looks back fondly on her experience on "The Voice."
"Being on The Voice was definitely a once-in-a-lifetime experience," Nazarian said. "Not only have I been able to live out my singing dreams on the stage, but also the modeling and acting that comes with being on a reality TV show. I've worked with the best producers, photographers, makeup artists, hair stylists, stylists and just an overall team that has exposed me to the behind-the-scenes process of the industry I want to be a part of. I think that being on "The Voice" taught me so much about myself and in meeting other talented artists I felt as though I was at that 'bootcamp' that Gwen Stefani refers to The Voice as! There's so many lessons I take with me and in being a part of this show I am truly solidified on my goals to be a singer."
She is continuing her pursuits in singing for her college career.
"My major will be professional music so that I'll be able to diversify my music ability and become a more well-rounded artist," Nazarian said.
Nazarian also wants people to know that her music is available for people to enjoy now.
"I am both a singer and a songwriter which I believe is important for people to truly know me as an artist," Nazarian said. "… I think that as long as I am doing what I love, I only see a successful future for myself….I've mentioned releasing music and I actually do have an EP that I released when I was 15 years old- of songs I wrote when I was 14."
Nazarian's journey on "The Voice" came to an end during the Battle round when she sang "You Say" by Lauren Daigle alongside Novi singer Alison Albrecht. This episode aired on Oct. 23.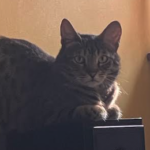 Donna Marie Iadipaolo is a writer, journalist, and State of Michigan certified teacher, since 1990. She has written for national publications like The Village Voice, Ear Magazine of New Music, Insurance & Technology, and TheStreet.
She is now writing locally for many publications, including Current Magazine, Ann Arbor Family, and the Ann Arbor Independent. Her undergraduate degree is from the University of Michigan, Ann Arbor, where she graduated with an honors bachelor's degree and three teacher certificate majors: mathematics, social sciences, English. She also earned three graduate degrees in Master of Science, Master of Arts, and Education Specialist Degree.