Washtenaw County is home to coffee shops of all forms, each meeting the varying needs of residents and visitors. Some shops have additional areas of expertise such as lunch or baked goods, but one thing they all have in common is a dedication to the integrity of coffee and coffee culture. 
In Washtenaw County, the question is usually not, "Is there a coffee shop around?" but "Which coffee shop should I choose to go to today?" 
Here is a list to help make your decision a little easier, however, it may still be difficult to pick which to try first. 
---
Ann Arbor   
Dozer
This is one of the newest additions to the Washtenaw County coffee scene. Within the modern exterior is a cafe and coffee roaster. They specialize in unique donut flavors. Dine-in and drive-thru is available everyday.  
112 Jackson Plaza, Ann Arbor.  734-929-5217. Dozercoffee.com.
Comet Coffee 
Coffee aficionados are drawn to Comet Coffee in the heart of downtown Ann Arbor for their intentional brews and latte art. The sheltered location of Comet is perfect for taking a coffee break on a stroll through the city. 
16 Nickels Arcade, Ann Arbor. 734-222-0579. Comet-coffee-180533.square.site
RoosRoast 
Try their famous Lobster Butter Love brewed coffee at one of their two Ann Arbor locations. Both cafes have a welcoming interior with video game tables and eclectic decor. Their breakfast sandwiches and burritos are a great grab and go option which pairs well with the fast paced downtown environment. 
1155 Rosewood St, Ann Arbor. 734-222-9202. https://www.roosroast.com
117 Liberty St, Ann Arbor. 734-369-2494.
Black Diesel
When you drive by Black Diesel, their igloos might stand out to you in the winter. This coffee shop has a variety of eclectic seating where you can enjoy your coffee and treats. In addition to their coffee menu and seasonal options, they offer breakfast, brunch, lunch and dessert. 
1423 E Stadium Blvd, Ann Arbor, (734) 436-8355. Blackdieselcoffee.com.
The Great Commoner
Calling themselves a boutique break cafe, The Great Commoner serves food, pastries, coffee and more in downtown Ann Arbor.
 110 E Washington St, Ann Arbor, ((734) 519-1300). www.greatcommoner.com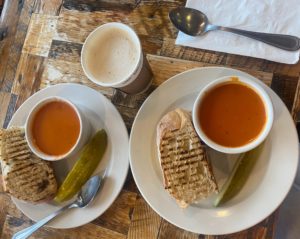 The Songbird Cafe 
Sophisticated flavors are prominent in the Songbird Cafe's coffee and food menu. Their coffee menu includes specialty lattes such as the toasted sesame latte and cardamom rose latte. It's cozy and spacious seating area makes the cafe a spot to meet a friend for coffee or lunch. On the weekdays, they have a special where you can order soup and half a sandwich. 
2707 Plymouth Rd, Ann Arbor, 734-780-7100. thesongbirdcafeannarbor.com.
2891 Jackson Ave, Ann Arbor. 734-436-8412
19 Drips Coffee 
Describing themselves as a third-wave coffee shop, 19 Drips of Coffee prioritizes high quality and specialty coffee with a commitment to sustainability and craftsmanship. Their Yemenese background is incorporated in the ingredients used in their brews and specialty drinks. 
2263 W Liberty St, Ann Arbor. 734-585-0461. 19dripscoffee.com.
Drip House Coffee Co.
Right by Michigan Stadium, Driphouse is a coffee shop which also offers crepes, toasts and sandwiches. Try their handcrafted matcha drinks such as the Military Drip which is a combination of matcha, espresso, vanilla, cocoa powder and milk. 
1336 S Main St, Ann Arbor. 734-800-4135. Driphousecoffee.com.
Ann Arbor Coffee Roasting Company 
Located on State St. right by campus, Ann Arbor Coffee Roasting Company is a hub for studying college students. There are a lot of tables that can be used for a study session or a space to hang out with friends. Their coconut creme latte is one of their menu items which accurately resembles the flavors of the classic dessert. 
324 S State St, Ann Arbor. Annarborcoffeeroasting.com.
Lab Cafe
This downtown coffee shop is known to have it's finger on the pulse of new coffee trends and flavors. Its minimalist exterior varies from the vibrant array of flavors offered at Lab. 
1101 S University Ave. Ann Arbor. 734-327-0740. https://www.facebook.com/labcafe/
York 
York Ann Arbor is a local institution which began as a specialty food and wine store but has grown into a cafe with a variety of food and beverage options. Out in York's yard is an outdoor seating area with tables, tents and fire pits which make for a unique atmosphere to enjoy your daily coffee. 
1928 Packard St. Ann Arbor. 734-662-0798. yorka2.com.
Vertex Coffee Roasters
Vertex is a cafe and roastery with a prominent patio for outdoor seating. They serve brewed coffee, tea from Tea Haus and specialty lattes such as the rosemary and spice latte. A zero waste is strived by Vertex and they do their best to reduce and reuse. 
1334 S University Ave. Ann Arbor. 734-780-7060. Vertex-coffee.com.
Mighty Good Coffee
Mighty Good is a local roastery and coffee shop that offers made to order and grab and go coffee. In addition to handcrafted espresso drinks and bagged coffee, they offer tastings and classes for the public. 
217 N. Main St. Ann Arbor. 734-222-4514. Mightygoodcoffee.com.
The Common Cup
This is a non-profit coffee house and ministry of University Lutheran Chapel. They serve local products such as Calder Dairy, Hyperion Coffee and TeaHouse. If you bring your own mug, they will offer 5% off your drink. 
1511 Washtenaw Ave, Ann Arbor. 734-327-6914. Commoncupcoffee.com.
M-36 coffee roasters
Following the closure of Espresso Royale, the Master Roaster gathered a group of fellow former Espresso Royale employees and opened a new roasting company. They still roast and sell old Espresso Royale favorites as well as M-36 coffee. 
1101 S. University Ave, Ann Arbor. 734-327-0740. M36coffeeroasters.com.
Moonwinks Cafe
In a classic building with a wrap-around porch, Moonwinks can be found in Dixboro. They serve Ypsilanti's Hyperion Coffee and specialty espresso drinks. In addition to breakfast and lunch options, they serve Ashby's Sterling Ice Cream. 
5151 Plymouth Rd, Ann Arbor. 734-994-5151. moonwinkscafea2.com.
Zingerman's Next Door
In Ann Arbor's Kerrytown District, Zingerman's Next Door operates out of a quaint looking house. Zingerman Bakehouse pastries, cake, bagels and other baked goods can be found here along with their carefully crafted coffee drinks. 
418 Detroit St, Ann Arbor. 734-663-5282. Zingermansdeli.com.
Zingerman's Coffee Cafe
Located at Zingerman's Southside, the Coffee Cafe is a spot where you can grab a cup of coffee away from the downtown environment. They take pride in their barista's ability to perform six hand brewing methods. They display a "Big Brew Board", which is a grid which describes the flavor profile of each blend and bean relative to each brewing method. 
3723 Plaza Dr, Ann Arbor. (734) 929-6060. zingermanscoffee.com/coffee-bar.
The Jefferson Market
In the Old West Side Neighborhood of Ann Arbor, breakfast is served all day. Currently indoor seating is not available, but they have heaters outside in their garden area where you can enjoy your coffee and food. They ask that you do not bring a computer to work because seating is limited. 
609 W Jefferson St, Ann Arbor. 734-665-6666. Thejeffersonmarket.com.
Sweetwaters Coffee and Tea
Sweetwaters is a chain which was founded in Ann Arbor by University of Michigan graduates. They have multiple locations in Michigan and some in select states throughout the nation. They have a large and diverse menu featuring specialties such as the Dragon Eye and French Vietnamese Au Lait.
123 W Washington St, Ann Arbor. 734-769-2331. Sweetwaterscafe.com.
2503 Jackson Ave, Ann Arbor. 734-827-5116.
3145 Ann Arbor-Saline Rd, Ann Arbor. 734-369-8697.
530 S State St, Rm 1300, Ann Arbor. 734-548-8088. 
407 N 5th Ave, Ann Arbor. 734-622-0084.
604 E Liberty St, Ann Arbor. 734-929-2398.
735 W Cross St, Ypsilanti. 734-340-6865.
3393 Plymouth Rd. Ann Arbor. 734-369-4568.
---
Ypsilanti
Cross Street Coffee
Formerly known as the Ugly Mug Cafe, Cross Street Coffee is a coffee shop and art gallery. They roast and brew their own coffee and offer a variety of specialty drinks. You can also order a bagel sandwich and baked goods here. 
317 W Cross St Ypsilanti. 734-484-4684. 
Vanilla Bean Cafe
After opening in 2021, Vanilla Bean has served coffee along with bubble tea, ice cream, crepes and pastries. They use Belgium chocolate in certain specialty drinks. You also can order Turkish Coffee and karak tea.
2227 Ellsworth Rd, Ypsilanti. 734-879-0286. vanilla-beancafe.com.
Bridge Community Cafe
Bridge is a coffee shop which launched in December 2021. They prioritize comfort and community in their space downtown. Their specialty drinks are named after zodiac signs. For instance the Reina (Leo) is an espresso Latte with pistachio rose syrup and brown sugar cinnamon. Occasional events are also hosted here. 
217 W. Michigan Ave, Ypsilanti. 734-896-3710. Bridgecommunity.cafe.
Hyperion Coffee Co.
The roastery and tasting room for Hyperion Coffee is in the cafe in Ypsilanti, but Hyperion coffee can be found in several locations throughout Ann Arbor, Detroit and Ypsilanti. In addition to coffee, their retail store sells chocolate, brewing equipment and merch. 
306 N. River St. Suite D, Ypsilanti. 734-547-5329. Hyperioncoffee.com
New downtown A2 location at: 111 W Liberty St., Ann Arbor.
---
Dexter
Joe and Rosie
Stop into Joe and Rosie's for coffee, breakfast, lunch or for a sweet treat. Located right in downtown Dexter, this coffee shop offers a large range of menu items.
8074 Main St, Dexter. 734-253-2344. Joeandrosie.com.
Bearclaw Coffee
Drive through Bearclaw for a quick cup of coffee, smoothie or italian soda. They also serve baked goods from Dexter Bakery. You might also see their mobile espresso bar at local events. 
9188 N. Territorial Rd, Dexter. 734-369-9660. www.bearclawcoffee.com.
2460 Washtenaw Ave, Ann Arbor. 
---
Chelsea
Zou Zou's
As a part of the Chelsea community for 21 years, Zou Zou's has grown to be a hub for coffee, lunch and desserts. They are known for their sweet and savory crepes. They also now serve beer and wine. 
101 Main St, Chelsea. 734-433-4226. Zouzouscafe.com.
Catered Coffee
On their website, they state "We are changing the way people think about coffee catering." They are a cafe, drive thru and portable cappuccino bar and their services go beyond the basic coffee with cream and sugar. The newest addition to their coffee menu is the Sweet Treat Vanilla Wafer Latte. 
528 Lane St, Chelsea. 734-216-2732. cateredcoffee.com.
---
Milan
The Owl, Morning 'til Night
This small town staple is a coffee shop during the day and a cocktail bar at night. The Owl has a large seating area with a selection of board games available for customers to play. Weekly events such as trivia night and monthly events such as beer yoga are hosted by the Owl. 
9 W. Main St, Milan. 734-508-6340. Theowlmilan.com.
Life is Sweet 
Lattes and more specialty drinks are served at Life is Sweet. They are known for their baked goods, but they also serve a variety of lunch items. The light blue painted interior is carefully decorated, making this shop the perfect spot perfect for a meetup with a friend.
42 E Main St, Milan. 734-628-7185. lifeissweetbakerycafe.com.
---
Saline
Brewed Awakenings 
This is a great place to meet up with a group of friends because of the large menu and ample amount of seating. Brewed Awakenings has a Local Artists' Corner which features local authors, artists and other craft makers. 
7025 E Michigan Ave, Saline. 734-316-2084. Brewedawakeningscafe.com.
---
Matty J's Bakery and Cafe
While baked goods are the focal point of Matty J's, they also double as a coffee shop with espresso drinks. They have plans to expand their coffee menu as well.  
972 E Michigan Ave, Saline. (734) 316-7747. Mattyjsbakery.com.
---
Carrigan Cafe
Located downtown Saline, Carrigan Cafe is a combination of a coffee and sandwich shop. It's cozy interior is welcome to those who want a quick lunch or sit down to have a cup of coffee. They offer specialty lattes such as the Angus which is a mocha with dark Ghirardelli chocolate with peanut butter and chocolate. 
101 S Ann Arbor St., Suite 107, Saline. 734-316-7633. carrigancafemi.com.