Zingerman's Delicatessen and Northwoods Soda have partnered to bring Michigan-made beverages to Ann Arbor.
Now, when you order your favorite sandwich at Zingerman's Delicatessen, you can pair it with a flavorful fountain drink. A selection of different flavors will be available in Ann Arbor.
Northwoods Soda & Syrup Co. is dedicated to bringing exceptional taste through high-quality ingredients. This family-owned and operated company has been hand-crafting soda syrup in the Grand Traverse area since 1998.
When Founder Bill Fosdick started his business in his basement, he experimented with fresh, clean water, high-quality extracts, and cane sugar to create his very own flavors.
Northwoods is continuously tinkering with recipes and creating new interesting flavors such as the two unsweetened soda waters, blueberry acai and rhubarb lavender, both available at the Deli in Ann Arbor.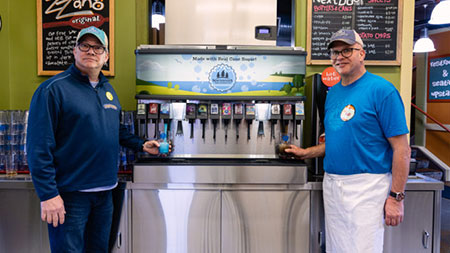 "We are excited about the possibility of custom flavors and look forward to bringing a new Zingerman's bespoke flavor to the Deli soon," said Rodger Bowser, Zingerman's Deli managing partner, in a press release.
Northwoods Soda products can be found at over 500 stores and restaurants, but Zingerman's Deli is one of the only soda fountains dispensing Northwoods Soda downstate. For the most part, Northwoods Soda is served in northern Michigan, closer to where operations all began for Fosdick in the Grand Traverse area.
These fountain drinks are available daily at Zingerman's Deli (422 Detroit Street, Ann Arbor) and their Next Door Café.
Northwoods Soda offers dozens of flavors, however, Zingerman's hand-picked the lin-up they wanted to serve in-store. They will be serving 11 flavors including cola, diet cola, root beer, vanilla cream, black cherry cream, ginger ale, blue raspberry, grapefruit, sparkling pomegranate lemonade, blueberry acai soda water, and rhubarb lavender soda water.
Decide what your favorite flavor is by trying them all! Each flavor pairs differently with different menu items at Zingerman's.