An Instagram post can stand for more than just a pretty picture. On this popular photo-sharing platform, a post can express who you are, where you are from, and what you believe in. Murals can have a similar effect as a social media post. While they are appealing to look at, they also hold meaning to the artist and community. The shared values of aesthetics and meaning between these two forms of expression make murals an interesting backdrop for Instagram posts. 
The streets of downtown Ann Arbor are filled with captivating artwork. Some of it reflects the city's cultures and traditions while others are more abstract. We created a list to help you find some of the best downtown Ann Arbor murals to strike a pose in front of for an Instagram picture.
620 E. Liberty St.
Omari Rush founded the "shur! Live, Work, Play Better" series which included a community mural project. Through the series, Rush intended to motivate community members to gather and collaborate in a creative way. The mural was first drawn out in a "paint by number" format, leaving it to about fifty community members to fill in with vibrant paint. 
With this lengthy horizontal mural, you can decide which section fits your aesthetic best. The brightly painted cubes can turn a portrait playful while the pastel sunset portion accentuates neutral-toned outfits with its mellow colors and imagery.
421 E. Liberty St
Tomukun's outdoor patio backs up to Rebecca Arends' serene mural of trees, birds, and stars. This is among the 10 buildings which Arends chose to revitalize with the artwork. These buildings were chosen based on how often they were tagged with graffiti. Even though Arends is a massage therapist and not a full-time artist, she was able to create eye-catching murals using stencils by New York Artist Cate Tinsley. 
Contrast this neutral-toned wall with a bold outfit and create Instagram gold. The focal point of nature exemplifies the true "tree town" spirit. Locals and visitors alike can pose near this image to create a captivating portrait that represents the city of Ann Arbor. 
216 E. Washington St. 
Adventura's mural is more than just signage for their building. Local Artist Martin Kazan painted a Spanish bullfighter underneath the whimsical "Adventura" script. The bold colors of the bullfighter decorate the outside of the restaurant which is known for its authentic Spanish cuisine.
Post a wide shot of this street art to add a pop of color to your Instagram feed. Light and simple clothes are your friends while posing next to this lively painting.
300 S. State St.
Mathew Sharum creates the illusion of a three-dimensional comic strip on the back of Potbelly Sandwich Shop. When Oxford Companies commissioned Sharum to paint this mural, he was given the theme "Town and Gown." The goal was to show the student experience at the University of Michigan and how it intersects with the traditions of Ann Arbor's downtown.
This is the perfect opportunity to show your followers what it's like going to school in the heart of Ann Arbor. Posing next to this will bring this image alive and make it feel like you are a part of the mural. Visitors and locals can also use this for social media content to add an artistic twist to the typical two-dimensional-looking backdrop of some photos.

300 S. State St.
Richard Yolk's street art is commonly referred to as "The Bookstore Mural." It is one of the most visible murals in Ann Arbor as it is located in a busy downtown intersection. In this large painting, Yolk abstractly illustrates Edgar Allan Poe, Woody Allen, Hermann Hesse, Franz Kafka, and Anaïs Nin.
These famous writers make for an interesting portrait. Either snap a wide shot of all four heads or choose your favorite to pose by. Not only does this create an intriguing photo, but it can be a means to express a passion for the written word to your followers. You can even pair the picture with a famous quote from one of the writers in the caption.  
200 S. Ashley St.
"Drifts" is a part of the Ann Arbor Art Center (A2AC) murals which pair artists with local businesses and buildings. The large mural which stretches across the building was created by Louise Jones, also known as Ouizi. 
Stand in the corner of this mural and create the illusion of an oversized meadow surrounding you. As you admire the mural, the natural allure of these flowers momentarily pulls you away from the fast-paced city. The details elevate the impact of this already eye-catching piece and the bright green, yellow, and pinks can liven up any Instagram post.
113 W. Washington St
Avery Williamson's "What the Water Gave Me" is a bold and abstract piece that is a part of A2AC murals. The selection of blue paints connects with the various lengths of winding lines. Looking at this piece reflects the experience of looking at a flowing body of water.
A portrait taken from a low angle will highlight the height of this piece and add variety to your repertoire of poses. The way the pattern fills the frame also makes for an attractive background for a selfie or close-up. 
555 E. William St.
The interactive "Michigan Wings" murals were created by Kelsey Montague and are a part of her "#whatliftsyou" campaign. This series became viral, especially when Taylor Swift commissioned Montague to design the "ME!" mural in Nashville. 
The Ann Arbor mural was commissioned by the University of Michigan, making it an essential photo opportunity for students, alumni, and fans. The painting does the work for you and makes choosing a pose much easier. This is a great way to show off your school spirit to all of your followers.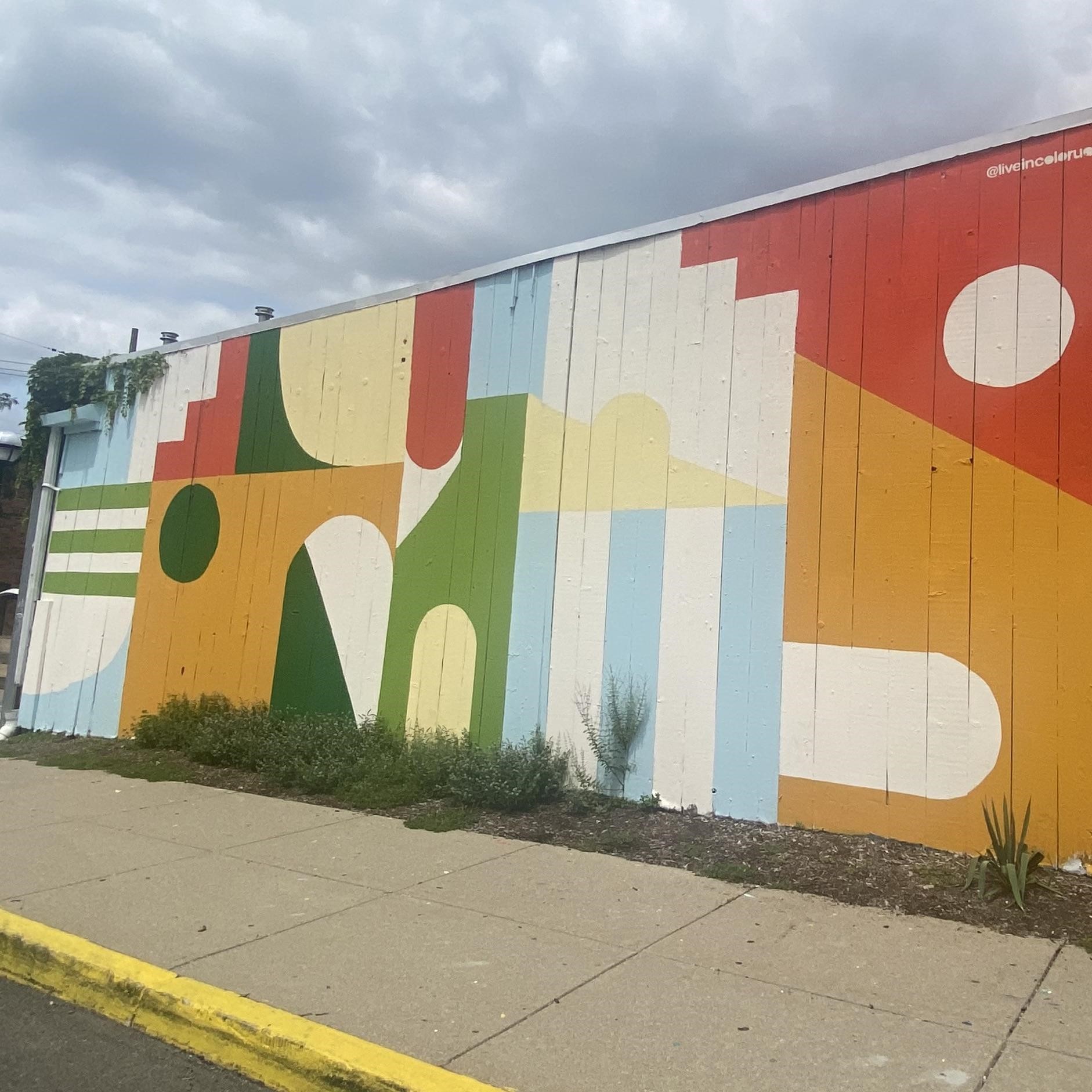 117 W. Liberty St.
This mural on the A2AC building was created by the University of Michigan student organization Live in Color. They were also the organization responsible for the vibrant exterior of the downtown Roos Roast Coffee location.
All of the pieces seem to fit together in this colorful geometric design. The piece provides an interesting backdrop that is likely to complement the focal point of an image.