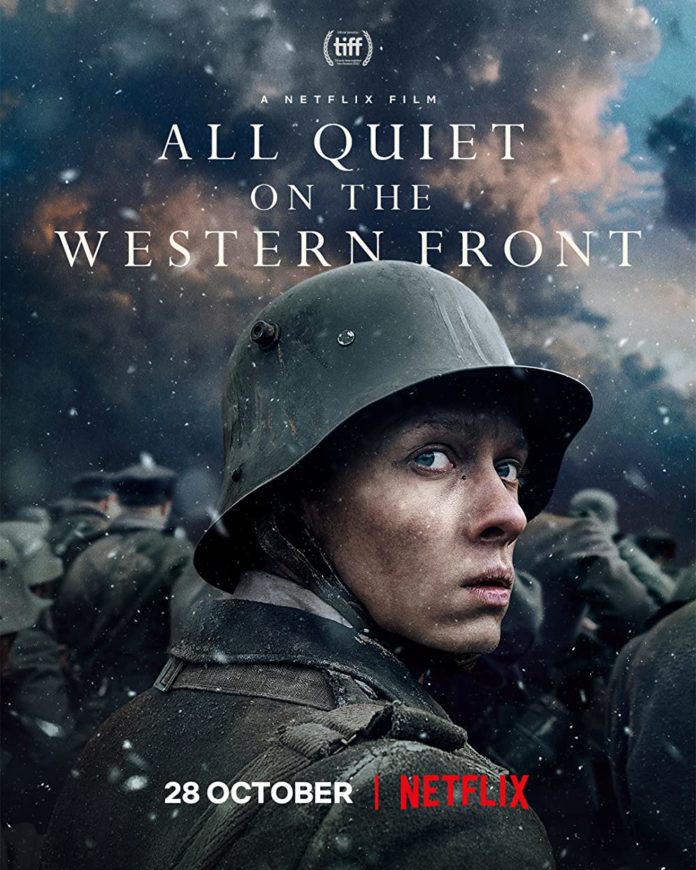 As we get closer to this year's Academy Awards, the upcoming will be your chance to see these nominees in a theater. The Michigan Theater, State Theatre, and Cinema Detroit offer up the best of 2022 and some great selections for ongoing film series. 
Best Picture nomination screenings
"All Quiet on the Western Front" has had three incarnations on celluloid including Lewis Milestone's best picture winner in 1930. This incarnation comes to us from Germany via Netflix. 
Its source material comes from the 1929 novel about the first World War whose author reflects on his experience during his years as a young German army volunteer. The film itself has been lauded for its sensory overload and sometimes difficult to watch realism many have praised as rewarding for the "war is hell" message. The first World War left most on both sides deeply anti-war. Many American films of the early 1930s (known as pre-Codes) dealt with the horrors of war and its deep scars on the young men who came back from it.
Netflix has not given this film the wide theatrical release it deserves so grab your chance to see it at the Michigan Theater . 
Actress turned writer, director Sarah Polley's fourth film, "Women Talking," is based on the true story of vicious serial rapes in an insular, ultraconservative Mennonite community in Bolivia. The film deals with the aftermath of abuse as the women meet secretly in a barn to discuss what course of action to take — leave, stay and fight, or nothing at all. The women's conversations reveal much about not only what they've endured but generations of women before them who've suffered similar abuse. 
The film boasts a stellar cast including Claire Foy, Rooney Mara, Judith Ivy, and Frances McDormand. See it at the State Theatre.
"Everything Everywhere All at Once" is probably the best loved and reviewed film of 2022. A sci-fi adventure movie about a Chinese immigrant (Michelle Yeoh) who manages a laundromat and is swept up into a crazy multiverse in which she alone can save existence by exploring other universes and connecting with lives she might have led. 
The film is nominated for 11 Academy Awards including a best supporting actor nod for Ke Huy Quan who makes a stunning career comeback from his child actor days in "Indiana Jones and the Temple of Doom" and "Goonies" 37 years ago. This miraculous, feel-good movie plays at the Michigan. 
The 2023 Oscar Nominated Short Films open Feb. 17 at the Michigan. Shown in feature-length compilations according to their category (Live Action, Animation, or Documentary), grab your chance to see them for a limited time only.
Classics at the Michigan
You can catch "The Thin Man" starring William Powell and Myrna Loy as Nick and Nora Charles, the coolest crime-solving couple to ever grace the screen, Feb. 11 and 13. 
On Valentine's Day, the Michigan Theater is playing Billy Wilder's classic, "Some Like It Hot", starring Marylin Monroe, Jack Lemmon, and Tony Curtis. 
Orson Welles' masterpiece, "Citizen Kane," starring Wells and Joseph Cotton screens Feb. 18 and 27.