Elmo's has a new location at Nickels Arcade. The independent apparel and accessory store has been a staple of Ann Arbor's local culture and downtown's shopping scene in one form or another since the late 1970s, and its latest move is part of a pattern of hopping from one storefront to another every few years.
"Our concept here is bridging the town and gown, the campus and the city," founder Elmo Morales said. "We carry an extensive array of Ann Arbor-wear as well as the basic University of Michigan wear."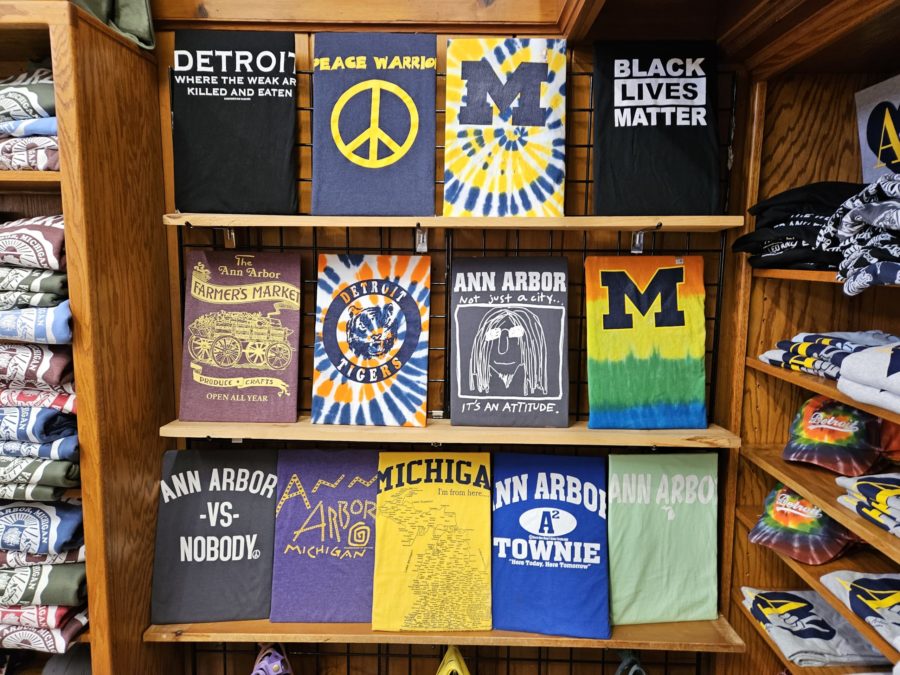 The new location in the shopping arcade between Maynard Street and the Diag replaces the recently closed Van Boven Shoes. They moved in to their new location on March 31 but are maintaining the Liberty Street location, which will be open for special events like football weekends.
It has the same merchandise as it always had – lots of University of Michigan and Michigan specific clothing and gifts, along with merchandise Morales designs himself and gets made in town. You won't find a lot of clothing on hangars at this location because part of the charm of the place is in preserving the charm of the building, which dates back to the first world war.
"They have a lot of unique things that I haven't been able to find at other stores," Jeffrey Rumpf, who was visiting in town from Toledo, said.
The New York City native's establishment has bounced around a bit since he established the company after being a school teacher at Community High School for 25 years. Some of the designs are even done by Morales himself.  The wooden shoe shelves inside have been repurposed for t-shirts and gifts, which emphasizes Ann Arbor's laidback, cosmopolitan, college town character.
"I feel that one…reason for Elmo's remarkable success is also the reason why many times he loves coming in the morning: he loves to meet people, share stories; to share Ann Arbor with people; to share the university," co-owner Marsha Dorr said.
Morales and Dorr met as U of M students at first. Neither remember exactly where or when they met, and they dated for some time. But as Dorr told it, their relationship ended, they drifted apart (Dorr lived overseas for a number of years) and had children and grandchildren separate from each other. Then, somehow, they got together, and you can find them again at their new location on the south side of the arcade, at the door near the State Street entrance, just after Bouviac's.
"We've also concentrated more on gift items because we figure there's enough apparel out there. People new to Ann Arbor always need apparel, but after a certain amount of time you've got enough maize and blue," Morales said. "But you do need little things to give people gifts, so we've got a good supply of all sorts of trinkets and accessories."