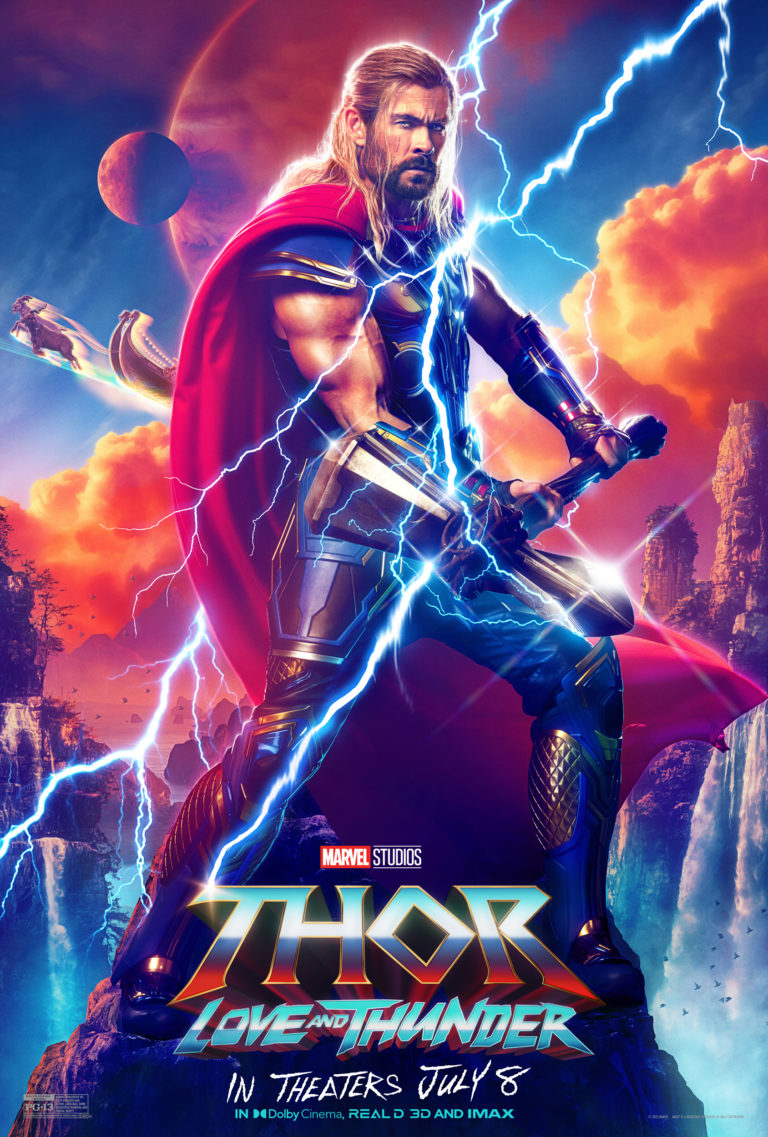 For Oscar winner Natalie Portman, it was surreal for her to not only return to the Marvel Cinematic Universe, reprising her role as Dr. Jane Foster, but to also play a female version of Thor in Thor: Love and Thunder.
"I'm grateful (Oscar-winning director Taika Waititi and executive producer Kevin Feige) cast a five-three actress in a 6-foot role," said Portman. "She's fighting alongside Thor and they're a team, but Jane is very much paving her own path, which has been really exciting."
Portman, Waititi, Feige, Chris Hemsworth, Tessa Thompson, and Oscar winner Christian Bale participated in a virtual press conference June 25 to promote L&T, which debuts Friday, July 8. It's the fourth Thor movie for Hemsworth (who also played Thor in the four Avengers movies) and the 29th MCU film. 
"When (Waititi) explained how Jane would become Thor, it was fascinating to consider what that experience would be like," said Portman. "Working on the film was an exciting challenge because it was so improvisatory, and Taika really keeps you on your toes."
L&T occurs after the events of 2019's Avengers: Endgame. Thor, who journeyed into space with the Guardians of the Galaxy (who make a cameo), is suffering from an existential crisis. He has lost several fellow Avengers, many fellow Asgardians, his home realm of Asgard, his magic hammer Mjolnir (pronounced "Mewl-nir"), and even his god-like physique. He's vowed that his super-hero days are behind him.
 "I don't think it's far-fetched to expect change in a character like Thor," said Waititi. 
Added Hemsworth: "There was a huge amount of pressure coming into this. Thor is the only character to make a fourth film so far, so I wanted to do something different. I always want to do better with this character."  
Thunderbolts and Lightning
In L&T, Thor gets back into shape (Hemsworth achieved his biggest physique yet for L&T, weighing in at more than 230 lbs. of solid muscle, showing off his abs and butt in a brief nude scene), then rushes to the aid of Sif (Jaime Alexander), who's been beaten by Gorr the God-Butcher (Bale). Gorr seeks to eradicate all gods. Traveling to Earth, Thor encounters Jane, his former lover, who wields a reconstructed Mjolnir, along with his powers. Alongside Valkyrie (Thompson) and the stoneman Korg (Waititi), the Thors go after Gorr. 
"(The filmmakers) looked for someone… who's a loner, who's creepy, who nobody wants to be around… and nobody wants to see his ass. It's easier to play a villain. Chris has the hard part," said Bale, the former Batman. 
"All of us were actually scared in Gorr's presence," said Thompson. "Christian was mesmerizing. He does that thing that Marvel villains do so well, which is that you see their villainy comes from pain, from some unprocessed trauma."
Oscar winner Anthony Hopkins and Tom Hiddleston do NOT reprise their respective roles as Odin and Loki in T&L. However, Chris Pratt, Karen Gillan, Pom Klementieff, Dave Bautista, Oscar nominee Bradley Cooper, and Vin Diesel appear as Star Lord, Nebula, Mantis, Drax, Rocket, and Groot, respectively. Oscar winner Matt Damon, Sam Neill, and Luke Hemsworth have cameos as actors playing Loki, Odin, and Thor, respectively. They're joined by Oscar nominee Melissa McCarthy as an actress playing Hela, Goddess of Death. Oscar winner Russell Crowe debuts as Zeus. 
"It was so much fun to see (Crowe) play Zeus and have such a great sense of humor with the character," said Portman. "I think we're so used to him in these very strong, heroic roles, so it was fun to see him be able to let loose."
Adapting Norse Mythology to Marvel Comics
Thor debuted in Journey into Mystery No. 83, published by Marvel Comics in 1962. He was created by the late writer/editor Stan Lee and the late artist Jack Kirby. In turn, Lee and Kirby adapted Thor from Norse mythology's Thor, the God of Thunder and namesake of Thursday, the fourth day of the week. 
In the comics, Odin, ruler of the Norse gods, banishes Thor to Earth in the form of Dr. Donald Blake to teach him humility. Not long after, he becomes a founding member of the Avengers, developing close bonds with fellow super-heroes Captain America and Iron Man. 
From 1983-87, fan-favorite writer/artist Walter Simonson took Thor to great new heights in what is considered by fans, critics, and fellow comics creators to be one of the series' high watermarks. 
"Odin's idea was to turn Thor into a mortal with a limp, so he'd be slightly less than other mortals and learn what humility really was. In that version, Blake just shows up on a college campus and – poof! – he's there. He never thinks about the fact that he doesn't have any parents, doesn't have a past life – he doesn't question that stuff. The thing about that is he really turned out to be Thor, one and indivisible at the end. He was a magically-reduced version of Thor," explained Simonson. "Once that story had been told, there was never a story about why (Blake remained). Odin's lesson was over and we wrapped it up. It gave me a fun introduction to the book by starting off with Blake and moving into Thor very rapidly… It opened a path ahead that hadn't been tried very much."
Thor's Michigan Ties
University of Michigan alumnus/artist Allen Milgrom and Simonson were roommates in Queens, NY when starting out in comics in 1972. Milgrom inked Thor sporadically when Simonson was up against a deadline crunch. "Walter is a terrific creator with a unique drawing style, good imagination, and strong sense of story – the auteur school of comic book illustration," said Milgrom. "He did some really great stuff on Thor. It was imaginative, different… There were humorous elements but at the end of day, you cared about characters."
Milgrom illustrated Thor when he was the artist on Avengers from 1982-84. "I just adored any of the Kirby characters," he said. "They really influenced me as a kid."
Former Marvel editor-in-chief Tom DeFalco wrote Thor from 1987-93 and its 1993-95 spinoff title Thunderstrike, working with longtime collaborator/artist Ron Frenz. Milgrom joined them on Thor from 1991-93 and Thunderstrike.
"I was always happy to ink Ron's art. I always loved working with Ron. I loved his stuff. He was the best of all that was Marvel…" said Milgrom. "It was just a pleasure to work with him. I really enjoyed that."
"Al is a great artist and an ever more wonderful person. It is always a pleasure to spend time or work with Al," said DeFalco. "I'm just really proud of that run."
A Phenomenal Talent
Artist/writer William Messner-Loebs, of Howell, collaborated with fan-favorite artist Mike Deodato, Jr. on a brief yet memorable run on Thor from 1995-96. In fact, Messner-Loebs wrote 1996's Thor No. 502, the final issue of the title, which was cancelled and later relaunched in 1998 at No. 1.  
"The best part of writing Thor was that I was working for Marvel – which I hardly ever did – and writing one of the cornerstone characters of the Silver Age, which was so thrilling to me," said Messner-Loebs. "Thor was established as Captain America's best friend. (The Captain America series) was being written by Mark Waid, who was my best friend. We had a good time writing the issue where they team up, laughing all afternoon. I knew most of this would never happen again." 
He continued: "In fact, Mark called me on one of those long, frenzied afternoons when we were trying to get everything to fit and come out right and remarked, 'You DO realize that Stan Lee wrote the first issue of Thor and you're writing the last?' I hadn't in fact thought about it, but when I did, it gave me the strength to get it done." 
DeFalco explained what gives Thor staying power after 60 years. 
"At its core, Thor is a series about family – about the main character (Thor) and his relationships with his brother Loki and his father Odin," said DeFalco. "The problems associated with family is a subject with which everyone can easily identify." 
Messner-Loebs stated Hemsworth is terrific as Thor.  
"I love Chris Helmsworth. He's like the brother I never had. I don't think people realize how impossibly difficult it is to do what he does. He grounds that whole corner of the MCU. Then he does that sweet, goofy performance in (2016's) Ghostbusters. All that great interaction with the Hulk (in 2012's The Avengers) was him talking to a blue screen. I love him," said Messner-Loebs. "You know Errol Flynn never valued what he could do as a swashbuckler. And today people are still trying to do it half as well. I think folks are going to look back at Chris Helmsworth as a phenomenal talent, who with half a dozen others, created this whole subgenre of moviemaking."