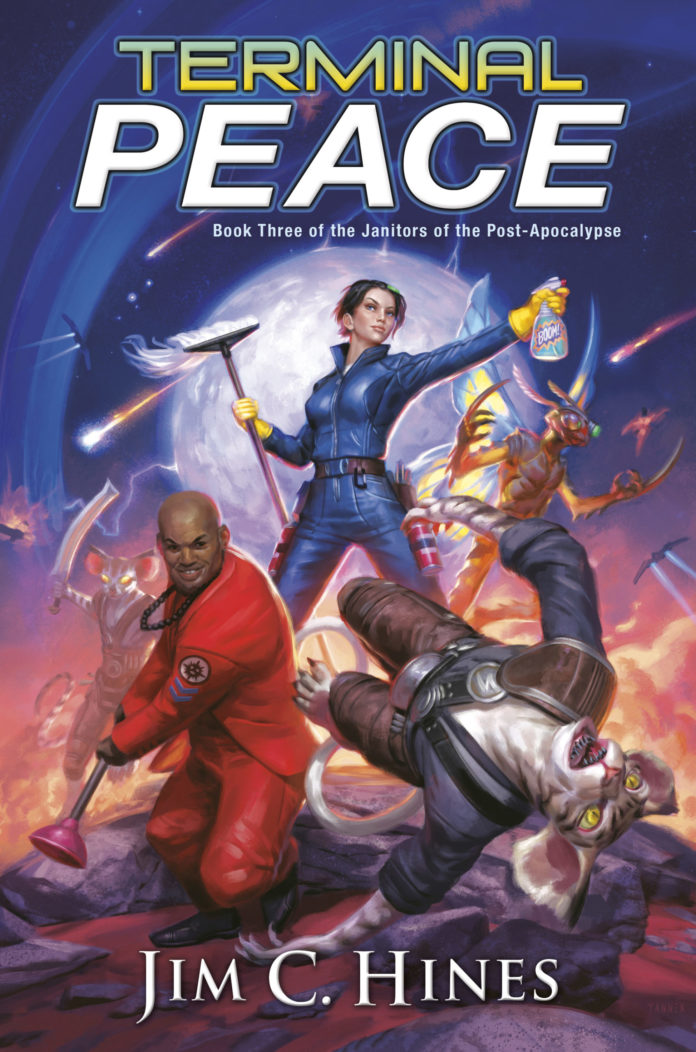 Believe it or not, author Jim C. Hines' latest novel, "Terminal Peace," is about janitors in outer space. 
No. Really.
"I've always been drawn to underdog characters, the ones who aren't necessarily recognized or appreciated," Hines said. "And let's be honest, the comedic potential of science-fictional janitors was irresistible."
A native of Philadelphia, Hines currently lives in Holt, where he graduated from Holt High School. He is an alumnus of Michigan State University, where he earned his bachelor's degree in psychology, and Eastern Michigan University, where he earned his master's degree in English and creative writing. 
"When I was an undergrad, I had a friend who was writing science-fiction/fantasy  stories, which looked like fun, so I tried a few myself," recalled Hines. "Those early stories were really, really bad, but I got hooked. I loved creating stories, I loved science-fiction and fantasy, and I loved the idea of connecting with readers through my stories."
To date, Hines has written just under 20 novels. "Terminal Peace" is the third and final installment in his "Janitors of the Post-Apocalypse" series. The first two installments are "Terminal Alliance" and "Terminal Uprising," respectively. 
"Throughout the trilogy, there's been an ongoing and escalating war between (an alien race called) the Prodryans and…well, pretty much everyone else. I knew I needed to bring that conflict to a resolution," he explained. "At the end of book two, I set myself up with the characters finding a secret file about a planet the Prodryans were afraid of. At the time, I had no idea what would actually be on that planet. So 'Terminal Peace' was all about cursing past me for not leaving a better outline for future me and trying to bring all the different plot threads to a close."
Marion "Mops" Adamopoulos is the main character of this trilogy. Hines spoke about creating her.
"Mops is named after an Earth scientist who allegedly helped to wipe out human civilization," said Hines. "She chose the name to remind herself of what humanity had done to itself, and how much they owed the alien Krakau for helping to rescue the survivors. I needed her to be stubborn enough to never back down from the truth, creative enough to keep herself and her team alive, and human enough to relate to. She was thrown into command of the Pufferfish, so I didn't want her to act like the traditional starship captain. She's got her own style that's a bit more chaotic and open to improvisation. But she's incredibly loyal and protective of her people."
Hines spoke about the challenges, both personally and professionally, when writing "Terminal Peace."
"In the beginning of 'Terminal Peace,' we discover that Mops is facing an incurable condition," he said. "I added that plotline after my (late wife Amy's) fight with cancer. It was really hard to write, but I think it made the story a lot stronger, and it also helped me to get some of the emotions out and onto the page." 
Despite that, he assured readers that the book is still a hopeful one. Further, he's confident the ending will make readers smile. 
"There were lots of fun parts," said Hines. "I enjoyed getting the chance to develop some of the secondary characters, especially Kumar. Giving a new character the same fashion sense as (fellow science-fiction) author Maurice Broaddus amused the heck out of me. And while world-building can be a challenge, I do enjoy coming up with new alien species and figuring out all of their differences."
Hines wanted to acknowledge his readers and give a shout-out to them. 
"Between a family health crisis, the pandemic, and some corporate rearranging with my publisher, 'Terminal Peace' took longer to come out than I'd planned," he said. "My thanks to everyone for their patience and understanding, and I hope it was worth the wait!
Ypsilanti-based Steven Piziks, another one of Hines' fellow science-fiction authors, praised his work. 
"I met Jim in Ann Arbor years and years ago," recalled Piziks. "He was working on a fantasy novel he called 'Goblin Quest' (Hines' first novel, in fact). He told me about it, and it sounded very funny. Not many people were doing fantasy humor back then, and the concept sounded great. Later, we ran into each other at a convention and
he told me that the book had sold and was getting great reviews – and he was starting a little website. Since then, Jim's gone even farther. His blog is an internet staple and he has hordes of rabid readers!"