Nine months into our survey of SE Michigan's dispensaries, we've found the market split into two sectors: the franchise big box dispensaries with plenty of mass-produced stock for (often) the lowest price points and the care-giver model dispensaries that tend to have their own grow or cater to a more boutique clientele. There is a bit of overlap at some places but generally we've found the above to be true. It took me a bit of time to realize a three-dollar pre-roll is a great deal but it's not what I necessarily prefer to smoke.
Which brings us to Nuggets, a boutique-styled dispo that opened at 705.5 Cross Street in Ypsi in mid-June, making it the 12th of 13 weed vendors in Ypsi.
Co-owner Jesse Kranyak also co-owns Wurst Bar and Bellflower. I had a chance to talk to him and general manager/buyer Mike Eisenberg not long after Nuggets opened.
With the market so saturated, Eisenberg mentioned "differentiation" in the cannabis marketplace.
"Basically all of us (at Nuggets) as far as the leadership side as well as the majority of the staff have spent a lot of time on the medical side of things," Eisenberg said.
This ensures the quality of the product will generally be a cut-above the cookie-cutter (often sugar leaf) stuff out there.
"We don't always have a ton of options but everything we have is exceptional," Eisenberg said.
Kranyak said, "It doesn't necessarily mean that the price point's high on it. Mike's done a lot of really good sourcing, finding some small family farms that have exceptional product with good genetics."
Lost Leaf, Pro Gro and Arbor Kitchen (edibles) are just a few of Nuggets' go-to suppliers.
At the time of this report, you could get an eighth of flower for $16-$50, a pre-roll for as low as $8 (Hytek), 1G vapes for as low as $15 (Mitten Extracts) and a variety of reasonably-priced edibles. They also just rolled out "all day, everyday" $4.20 Golden Gramz. So for a boutique-modeled smoke shop, you don't have to break the bank at Nuggets.
When asked if Nuggets was looking to have its own local grow Eisenberg said, "We're going to set up Ypsi as our base so we're working on securing a cultivation and processing facility and we would love to be within the confines of the city of Ypsilanti."
The leadership team was put together by Drew Conner (a "cannabis breeder" since 2016 who started his operation as Green Fish Seeds, now under the umbrella ORCANNICA).
Among the ownership group, there's only one who isn't local, Danny G, a tattoo artist based in Houston. Currently, the grand prize for Nuggets' loyalty program is a tattoo from Danny who will fly into Detroit to reward the customer who accumulates one million loyalty points. Bruiser Brigade (Danny Brown's Detroit-based crew) producer, SKYWLKR, is another partner.
It is an economic, "elegant" space as Eisenberg puts it and "climate controlled like a cigar shop," adds Kranyak.
You'll see growers you don't see at most other dispensaries on an overall a more curated and manicured menu. This is the differentiation I seek, clean, local smoke that further establishes Ypsi as a destination for discerning cannabis cognoscenti.
For this month's Green Screen auditory companion, we hit you with some Mexican cumbia which is a cousin of the original Colombian genre. We had to Shazam Grupo ICC's "Dile" at a recent trip to Antonio's Coney Island, yet another Ypsi jewel.
That's all the news that's fit to smoke this time around, go mining for green gold at Nuggets next time you are in Ypsi.
RELATED: The Green Screen: Planet Jane
RELATED: The Green Screen: Winewood Organics
Ann Arbor is a hidden gem for its diverse and vibrant restaurant scene for anyone…
At the helm of the street design is the Ann Arbor Downtown Development Authority (DDA), which decided…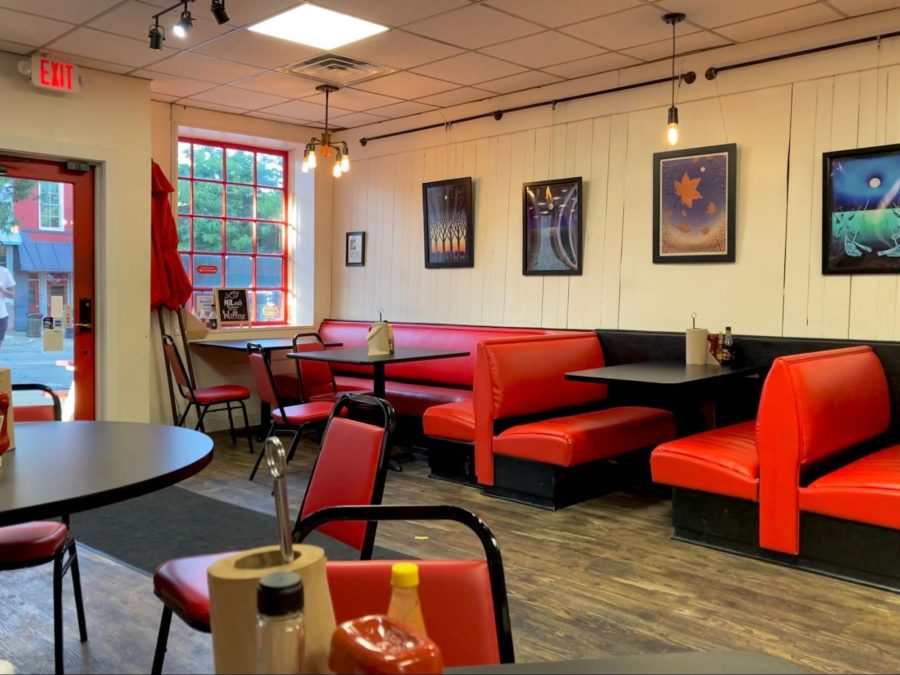 While the white building with the hanging sign reading "Ma Lou's Fried Chicken" may be…