The Owl, Morning 'til Night, a cafe in downtown Milan, has opened it's outdoor seating for the season named the "perch." Get it? Owl… Perch… Cute, right?
Owner Ryan Wilman said this space is a result of a strong partnership with Milan Main Street.
Live from Tolan Square

"All summer long, the city has free live music across the street in Tolan Square on Friday evenings," said Wilman, who has called Milan home for 15 years.
The perch is a great place for community members to hang out, grab a drink and check out the bands that play each week.
Be sure to stop by the perch during Milan Main Street's Third Thursdays. Every third Thursday from June through September, Milan will be filled with live music, activities, street dining, pop-up markets and more.
Local focus and flavor
The Owl originally opened as The Morning Owl in 2014, but changed its name when it expanded its coffee drink menu to include craft beer and cocktails and took its hours into evening.
"We are all about craft, and local ingredients when we can," Wilman said. "Our coffee is roasted for us fresh every week from Hyperion in Ypsilanti, which we turn into some amazing cups of coffee, lattes and mochas. Many of our beers are locally brewed and we always rotate our offerings as often as we can to showcase all the supremely talented brewers around us."
One of Wilman's personal passions is cocktails. The Owl uses many top-shelf Michigan ingredients blended with house-made syrups and fresh-squeezed fruits.
In addition to live music, The Owl is a hub for other community events as well.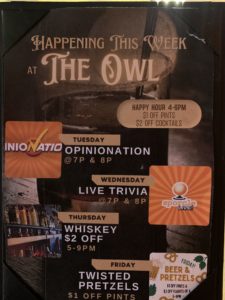 "On Tuesdays we host a 'Family Feud'-style game," Wilman said. "And on Wednesdays, we have a trivia night, and then once a month on a Monday, we have an open mic."
Happy hour is daily from 4-6 p.m.
"We love our community, we are passionate about what we produce and we care about the ethics behind our products," Wilman said. "We are always looking to do more good in all three areas."
The Owl, Morning 'Til Night, is located at 9 W Main St in Milan.
Live from Tolan Square kicks off on Friday, June 9, from 5-8 p.m. Influenced by The Doors and Merle Haggard, Unkle Lay Lee's Moonshine Allstars will perform classic B-side hits.