A2's Summer Streets Thursday Night Music are back to bring a second summer of live music and good energy to the downtown area. 
Organized by the Main Street Area Association, local musicians and bands will perform outdoors every Thursday evening from 7-9 p.m. The series began June 2 and will continue through Aug. 31 and serves to enrich the new culture around the pandemic-era block closures.
"We want to highlight and connect to Ann Arbor's roots of fostering creativity and artistry and bringing the community together to listen to our music," said Sandra Andrade, executive director of Main Street Area Association. 
The 4 performances each week are spread out and can be found on Main Street between William and Liberty, Liberty between Ashley and Main, Blue Tractor BBQ & Brewery's outdoor patio, and Washington between Main and Ashley. 
Non-profit community partners like the Ann Arbor Hands-On Museum, getDowntown and University of Michigan's Conceptual Development Lab will be hosting engaging tables for community members to participate in. 
Matthew Altruda, host of Tree Town Sound, curated the musical acts for A2's Summer Streets. Altruda's involvement with Bank of Ann Arbor's Sonic Lunch, another free summer outdoor concert series, drew the Main Street Area Association to him.
"We wanted to tap in with someone knowledgeable with the local music scene, and nobody knows it better or loves it more than Matthew Altruda," said Andrade.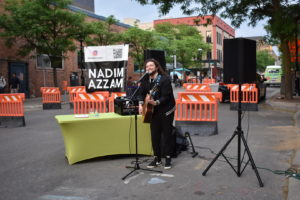 The Ann Arbor City Council unanimously approved many street-closures to open the sidewalks and streets to businesses for expanded patio seating on June 2, 2020, one day after Gov. Gretchen Whitmer lifted Michigan's stay-home order.
Andrade said the culture around the street-closures was something worth investing in 2 years after the initial decision. 
"Our mission is the vitality of downtown, so we were looking for ways to engage that space more because it has grown into a community space," Andrade said. 
Andrade said the concert series grew in popularity by word of mouth throughout the summer, so the Main Street Association knew the series had to return. 
The performances fall within Ann Arbor's Main Street Social District and many businesses participate.
This defined area for public drinking is also new to Ann Arbor; the City Council approved the district for Thursday through Sunday in early December, 2021. It was extended to 7 days a week, from 10 a.m-11 p.m. at an April 18, 2022 meeting.