By Ailish Kilbride 
Our local Jr. Journalist, Ailish Kilbride, chatted with the folks behind the locally cherished Brush Monkeys (creators of window artistry in downtown Ann Arbor).
Turning the plain windows of downtown Ann Arbor and surrounding areas into works of art has brought Mary Thiefels and her husband Danijel Matanic a sense of fulfillment. Painting the windows of local restaurants, gathering spaces and buildings around Ann Arbor for the past 15+ years has helped build a community of individuals who appreciate and understand the value of street art.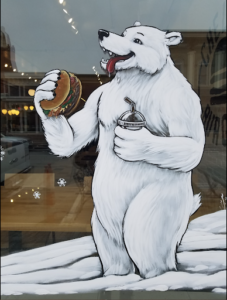 "The community, I think, that we sort of bring together is artists from around the area that then come to beautify these different city streets," Thiefels, who co-runs the window painting business The Brush Monkeys, said. "Ann Arbor has always been a supportive creative community. I think that our art is really appreciated and experienced to the fullest because of how creatively minded Ann Arbor is." 
The Brush Monkey team is made up of 10+ regional and local artists who are dedicated to bringing joy to pedestrians and passers-by. 
For Thiefels, being able to provide art that is accessible and not locked away in a gallery, is something that she finds valuable. For most professional artists, the public never gets to experience the process of how the art is made. The Brush Monkeys have changed that. 
"A lot of people just say 'thank you'," Thiefels said. "They often comment on the beauty of the piece as they're walking by. That is really the most heartwarming part for us artists is to know that the impact is just going to continue beyond that moment of painting." 
Another branch of Thiefel's business is Tree Town Murals, which focuses on large-scale paintings that take anywhere from six months to a year. These projects are always brought to life through the client's vision.
"[Tree Town Murals] is a republic of artists and artists for hire who work with municipalities, nonprofit organizations, schools, centers and corporations to identify unique interests," Thiefels said. "We then create large scale paintings that kind of help these different populations showcase their identities or highlight different things that make them unique.  We're kind of a creative conduit." 
During the heart of the COVID-19 pandemic, The Brush Monkey team struggled due to the fact that shuttered restaurants were their biggest customers. 
"Whether it was not inside people's budgets or people just didn't need us, as 2020 continued we actually brought our prices down," Thiefels said. "We did a lot of bartering and trade, because we really wanted to continue to bring the spirit of the brush monkeys' winter holiday painting, especially in that time when everyone needed it the most. When our downtown was just shuttered, it gave people a reason to come downtown."
Brush Monkey's is hoping to continue to expand into other parts of Michigan with a goal of bringing a smile onto people's faces who get to enjoy their art in local downtown areas. 
Brush Monkeys https://www.brushmonkeys.com/
Tree Town Murals  https://www.treetownmurals.com/
Our Jr. Journalist, Ailish Kilbride, is a sophomore at Community High School. She has a passion for writing, and enjoys tackling subjects relating to her community and profiling interesting community figures. When not taking notes, writing or doing homework, you can find her taking long runs by the huron river, playing field hockey for Pinnacle and Skyline High School, or enjoying a great book cuddled up with her dog, Lulu.
If you or someone you know would like to be a Jr. Journalist, please email: annarboreditor@adamsstreetpublishing.com .