It's wedding planning season, and we're here to help!  We've gathered a comprehensive list of wedding vendors from Washtenaw County to make your planning easier.  Listed below are bridal and wedding vendors in Ann Arbor, Saline, Ypsilanti, Chelsea, Dexter, Milan, and more.  
---
Venues

:
For a couple whose vibe is modern and industrial, this venue is downtown Chelsea will fit into your wedding vision perfectly. They are very transparent about the cost and account for all potential hidden fees in their flat rate which varies based on time of year. Currently, the least expensive time of year is weekdays in Jan.-March for $6,500 and the most expensive time of year is Saturdays May-Oct. at $14,500. 
120 W. Middle St, Chelsea. 734-531-7722.
---
Built in the 1800s, The Ann Arbor City Club is an elegant space to hold a wedding. The gardens provide for a classy backdrop for tying the knot in the heart of the city. The City Club offers catering but they also allow licensed vendors to cater. However, outside caterers do not have access to the Club's kitchen facilities or utensils. 
1830 Washtenaw Ave, Ann Arbor. 734-662-3279.
---
For a more rustic setting, this venue is on 16 acres with a 2400 sq. ft. restored barn. The barn at Misty Farms accommodates 130 seated guests. For larger parties, they have a tent site that accommodates up to 250 people. 
8040 Scio Church Rd, Ann Arbor. 313-657-6882.
---
Smaller wedding receptions can be held at this venue in this stylish setting. This bar is located in a historic building in downtown Ann Arbor, giving your event a rustic vintage feel. 
210 South First Street, Ann Arbor. 734-277-3656.
---
Located in the heart of downtown, Zingerman's venue the Greyline provides a setting for an upscale wedding. It is required to use the venue's food while using the space. Zingerman's catering offers a luxurious array of dishes. 
100 N. Ashley Street, Ann Arbor. 734-230-2300.
---
Have your mid-sized wedding in the historic Walker building downtown. There are two different event spaces which can be rented together or separate depending on your preference. For an additional fee, you can rent tables, chairs and Edison lights.
117 W. Liberty Street, Ann Arbor. 734-994-8004.
---
If you think of your summer camp days fondly, invite guests to North Star Reach and indulge in the nostalgia of it all. Large group event spaces include the dining hall, arts and crafts building, amphitheater, gymnasium/ hangar and pool. You can also reserve bunkhouses, fully accessible cabins or yurts for lodging.
1200 University Camp Dr, Pinckney. 734-680-8744.
---
Opt for a golf course wedding for a classy event space with picturesque views. The recommended capacity for this turn of the century residence is up to 150 guests. Enjoy a large dance floor, cathedral ceilings and large windows at this venue. 
3110 W Ellsworth Rd, Ann Arbor. 734-994-8580.
---
Rent this large barn for your stylish rustic wedding. The maximum seating capacity for the venue is 300 on the floor level and 75 on the loft. This is a dry venue so no alcohol is permitted. 
14617 Petersburg Road, Milan. 734-476-2181.
---
This bed and breakfast and event center is for a wedding getaway with close family and friends. This space is only available for weddings under 100 people. Weddings under 20 can celebrate in the formal dining room while bigger weddings can be held in the Brigham Ballroom. The covered gazebo and the Pond Garden are outside spots on the property fit for a ceremony. 
1917 Washtenaw Ave, Ann Arbor. 734-417-7223.
---
If you and your fiance met at the University of Michigan, celebrate your wolverine pride by holding an elegant wedding on campus. The Michigan League Ballroom has an intimate courtyard garden, leaded glass windows and an arched ceiling. 
911 North University Ann Arbor. 734-764-2000.
---
Look over The Big House and the University of Michigan campus from the Jack Roth Stadium Club. Tables, chairs, security and parking are all included in the $9,900 rental cost. 
1201 S Main St, Ann Arbor. 
---
Get married on the Block M at the 50-yard line at the Michigan Stadium Field. For 7,000, you can rent the field for a one-hour ceremony. 
1201 S Main St, Ann Arbor. 
---
Have your ceremony and reception at the Michigan Theater for access to the theater, dressing rooms, lighting, sound, one technician and one theater staff member. It is $1600 for an eight hour rental of the theater and $600 for just the ceremony for four hours. Wedding package add-ons include $4 per person for popcorn, projectionaist and use of film screen for $150 and marquee usage for $100.
603 E Liberty St, Ann Arbor. ​​734-668-8397. 
---
Ann Arbor Marriott Ypsilanti at Eagle Crest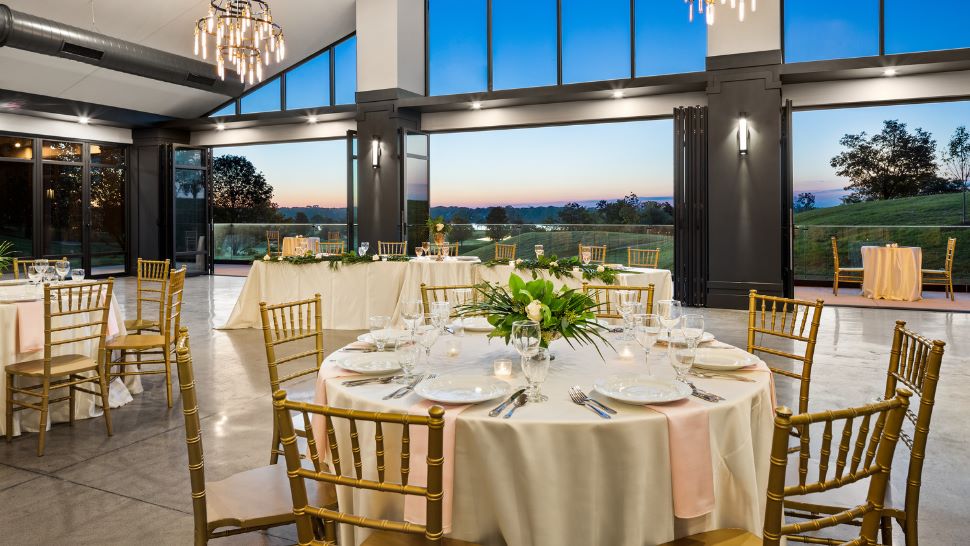 The Garden Marquee is a 3540 sp. Ft. space which offers the views of an outdoor wedding, while still being indoors.
This hotel can accommodate a range of wedding sizes and styles. Their most unique venue is the Garden Marquee, with a max capacity of 300 guests. This venue is lined with large windows which look out onto the golf course. Other venues within the property are the Elizabeth Ann Ballroom with a maximum capacity of 200 guests and the Roy E. Wilbanks Ballroom with a max capacity of 1,000 guests.  
1275 S Huron St, Ypsilanti. 734-821-6144.
---
Have you always dreamed of being surrounded by the fresh smell of flowers as you say your vows? Get married at one of the seven spaces at Matthaei Botanical Gardens. Options include the Gateway Garden and Perennial garden for pirates under 150, the Herb Knot Garden, Willow Pond and Arboretum for parties under 100 and the conservatory for parties under 60. If you wish to follow your ceremony with a reception, you can rent out the auditorium for $1,000.
1800 N Dixboro Rd. 734-647-7808.
---
Catering
Everything from the Engagement party to the post-wedding brunch is covered by Katherine. By choosing Katherine, you have access to an exclusive event space, Lyon Oaks in Wixom. They offer several premade and customizable menus for buffets, family style, plated dinners and strolling stations. They offer complimentary tasting for up to four guests. 
356 Metty Drive, Suite 4, Ann Arbor. 734-930-4270.  
---
Wellers offers various options for hor d'oeuvres, dinner, dessert and late night snacks. Some of their entree options are black angus prime rib, chick breast with lemon-caper sauce and slow cooked breaded pork chopped with pan gravy. You can also get a fancy dessert bar or table. 
555 West Michigan Ave, Saline.
---
EAT organizes their menus by the season in order to highlight locally available produce, but they can accommodate most menus year round. They also allow you to customize your menu. You can order their desserts either by the dozen or per person. Some of their dessert options include caramel bourbon bread pudding, ice cream sundae bar and a pie bar with up to three kinds of pie. 
1906 Packard, Ann Arbor. 734-213-7011.
407 N. Fifth Ave, Ann Arbor. 
---
For a bride who prioritized food made from scratch with all-natural ingredients, the Produce Station offers several optionals. Beef, pork, poultry, seafood, pasta and vegetarian are all available as entrees. They also offer many different beverage options. In addition to its coffee and tea service and beer and wine service, they can serve their fresh-squeezed orange or grapefruit juice and other non alcoholic options. 
1629 S. State St, Ann Arbor. 734-663-7010.
---
Using the meat from Knight's Market butcher shop, this catering option is perfect for meat lovers. They do, however, offer seafood and vegetarian options. Their carved to order options include prime rib, top sirloin roast and whole tenderloin roast. They also grill filet mignon and top sirloin on site.
5060 Jackson Rd. Suite D, Ann Arbor. 734-222-9210.
---
This famous Ann Arbor establishment uses their own fresh ingredients in their passed hors d'oeuvres, plated dinners, buffets, late night snacks and dessert bars. They even offer tapas as an appetizer option. Some of their late night snack options are a macaroni and cheese bar, mini reubens, popcorn and s'more bites. 
422 Detroit St, Ann Arbor. 734-230-2300.
---
Sophisticated flavors are served by Plum Market through their hors d'oeuvres and entrees. They also offer stations such as a skewer station, pasta station and a asian cuisine station. If you are looking for a more nontraditional vendor, the Plum Market Sidecar Food Truck can cater a customizable menu to your guests. 
3601 Plymouth Rd, Ann Arbor. 734-545-7250.
---
They want to help provide your dream wedding cuisine, however unique it may be. In the past they have done everything from vegan to wild game weddings. Some of their station options are a mashed potato bar, Mexican fajita bar, mongolian barbecue and a strawberry shortcake bar. If you are interested in holding a "green" wedding, ask them about their compostable and biodegradable tableware and trash bags.
223 E Main St, Manchester. 734-428-9526
---
This farm to table caterer sources from Tantre Farm in Chelsea. Harvest Kitchen' award winning chef driven menus offer a range of different cuisines, but they specialize in plant based meals.
4175 Whitmore Lake Rd, Ann Arbor. 734-436-1052.
---
Invitations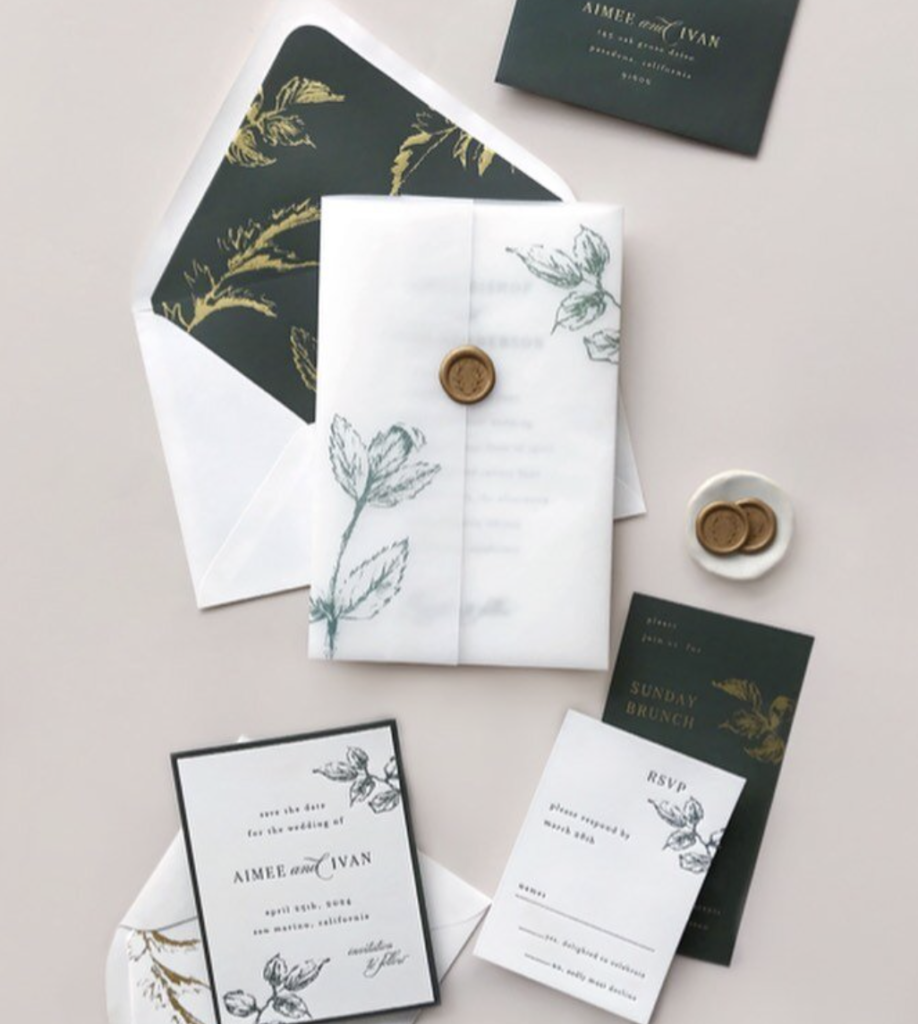 The client's vision, personality and budget is heavily taken into account for each product. Place cards, menus, programs, and thank you cards are among the many stationary options. Add-ons such as edging, blind debossing and embossing, foil stamps, wax seals and inserts cards are available. 
833 Penniman Ave. Suite A, Plymouth. 734-576-0009.
---
Operating out of Ypsilanti, Owner Kenisha Coon uses modern calligraphy to hand make lettered invitations. You can order her rustic or minimalistic wedding invitations from her Etsy page. She has been highlighted by The Knot and WeddingWire. 
7328 Cypress Pointe Dr. Ypsilanti. 760-914-2081.
---
This Ann Arbor online shop specializes in modern handmade stationary. Her work includes many options for minimalistic floral imagery. Stationary can be ordered from the owner's Etsy shop. 
2723 Page Ave, Ann Arbor.
---
Owner Leyla Conlan's year of experience in event planning and specialty retail is applied in her specialty wedding stationary. They have been in business since 1993 and now has a storefront that she works out of. 
2386 E Stadium Blvd, Ann Arbor. 734-662-9171.
---
Dresses
Open by appointment only, Mimi's offers a classic and welcoming bridal boutique experience. Find popular designers here such as Maggie Sottero, Abella, Hayley Paige and Allure. 
3366 Washtenaw Avenue, Ann Arbor. 734-971-6464.
---
This appointment-only boutique is not your average bridal salon. Your private stylist will help you pick out your dress in a laid back environment. They specialized in modern and unique wedding dresses. 
122 S. Main Street, Suite 320, Ann Arbor. 734-834-4696.
---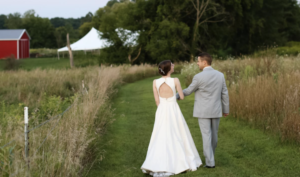 When you buy a dress at the Bride's Project, you are also contributing to the Cancer Support Community of Greater Ann Arbor. Some dresses are donated from brides and others are donated directly from bridal salons. Their selection ranges, but in general their prices are lower than most other bridal salons. 
1677 Plymouth Road, Ann Arbor. 734-506-8271.
---
Choose from a collection of their gowns or have your dream wedding dress custom made. They are open to create unique dresses such as black gothic dresses or dresses with removable skirts and trains. They are known for their 2-in-1 dresses, so their brides can sport a different style for the ceremony and reception. 
46407 Doubletree Rd, Canton. 313-265-9947.
---
Flowers
Bridal bouquets start at $250 at this small floral design studio. Brides work directly with the owner Tracy throughout the design process. Tracy also runs Poppyseed Bouquet Illustration for brides interested in remembering their wedding flowers forever. 
734-748-5821
---
Located in Kerrytown, this family owned business has been serving the Ann Arbor family with floral arrangements for 35 years. 
414 Detroit Street, Ann Arbor. 734-663-2693.
---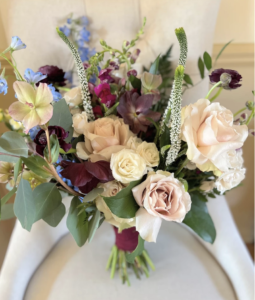 Tell them your color palette and Little Workshop Floral will make an organic and whimsical design with seasonal blooms. Bridal bouquets are $200 and bridesmaids bouquets are $150. 
734-717-8745
---
For brides looking for a fresh garden feel, We Adore Flowers cuts from their collection of perennials and woody shrubs. Their studio also uses bee safe and eco-friendly practices. 
501 Osband St, Ypsilanti. 734-695-9490.
---
Brides can purchase one of their two wedding floral packages. The satin package is available for brides on a budget.The minimum budget for this package is $500. The silk package is intended for brides with a very specific vision with a minimum budget of $6,000. 
7 Nickels Arcade, Ann Arbor. 734-665-6037.
---
Photography 
Navone is a recent college graduate from Detroit. The "Big Day" package starts at $800 dollars and includes a full day of shooting with 50+ digital images.
(313) 759-1461
---
Heather provides services in Ann Arbor, Detroit and Grand Rapid but she is also open to traveling. Her works take a creative and honest approach to weddings. 
209 Pearl St Suite 7, Ypsilanti. 734-834-5015.
---
Call Yana for your adventure wedding or elopement. Her target clients are couples who want to celebrate their love in a non-traditional setting such as under the stars, on top of a mountain or another romantic spot in the great outdoors. 
---
Jen has been in business serving Washtenaw county and beyond since 2010. You can hire her for the exact amount of time you would like for $500 an hour. A second photographer will be there to take pictures if necessary. A complimentary engagement session is included in the package. 
734-546-7030
---
Book an Itty Bitty Pixie wedding package for your Michigan microwedding. If needed, Pixie Light will help find a location, provide an officiant and bring a cake. Packages start at $1,200.
734-395-7762
---
Kristen Turner-Hamblen Photography
This Ann Arbor photographer covers weddings locally, nationally and internationally. Her Emerald Suite includes four hours on the big day, one planning session, a complementary 30-min shoot, retouching services, full digital galleries and 20 4×6 prints starting at $2,500. The Sapphire Suite starts at $4,000 and includes eight hours of coverage, two planning sessions, a complimentary one hour shoot, a second shooter, aerial photography, retouching services and 20 4×6 prints. 
703-304-1206
---
DJs + Bands 
Dance the night away with Mainstreet Soul. They have been featured in "The Knot Best of Weddings" for the last five years. Their website lists all of the artists whose songs they perform at events. 
248-825-3745
---
This music duo provides the effect of a band, but takes up less space. Among their repertoire is pop, motown, 80s and 90s hits, rock and other dance music. You can hire them for the ceremony, cocktail hour and the reception. The price usually ranges from $1,950-$2,400. 
248-766-9759
---
If a full dance floor is a priority, you can hire The Cabin Guys to get your party moving. Wedding packages start at $4,500 with the bronze packages which includes just the reception. Starting at $7,000 you can get them for the reception, cocktail hour and ceremony. For an additional cost, they will include horns and an auxiliary percussion section. 
248-765-7538
---
One of their services is a wedding DJ. You get to look through and choose songs from their library of more than 50,000 songs. The DJ package includes a professional DJ, professional sound equipment, interactive online planning tools, high quality wireless microphones, 6 hours of entertainment and dance floor lighting. 
800-419-8480
---
In addition to a wedding DJ, they will provide support throughout your entertainment planning process for your wedding.  They ensure that this is a customized experience with their user friendly drag and drop online planner. For an additional cost, you can include live percussion in the setup. 
248-761-6900
---
Based in Ann Arbor, this DJ group mixes using vinyl. The usual price is $2200 and setups for cocktail hour and the ceremony are $300. If you want to test them out, you can stream mixes on their website. 
248-736-2760
---
This Ann Arbor DJ ranges in style with their top of the line equipment. Owner Luke Frutig has over 10 years of experience and his services cost $2250. Justin Reed is a DJ and event host whose services cost $1650. 
734-330-6857
---
If you are looking for a classy vibe for your big day, consider hiring a string quartet to play during the prelude, ceremony, cocktail hour or reception. They have a large song selection consisting of genres such as pop, broadway, movie scores, jazz and more.
734-418-9923 
---
Hotels
Start your stay with a complimentary toast of champagne at The Kensington Hotel. This is home to the largest hotel pool in Ann Arbor, fitness center and renovated rooms with upscale amenities. Guests can dine at The Kensington Hotel at rel·ish, which offers a range of cuisines. Every Saturday and Sunday, a breakfast buffet is offered. They also have facilities where you can hold your ceremony and reception.
3500 S. State St, Ann Arbor. 1-866-654-7431.
---
Opt for the wedding package at Weber's and enjoy their luxurious amenities and 9,000 sq. ft. indoor event space for your ceremony and reception. The package includes a hotel room for the wedding couple with in room clicquot champagne, truffles, chocolate covered strawberries and breakfast. Other overnight guests will receive a special hotel room rate.
3050 Jackson Rd, Ann Arbor. 734-769-2500.
---
Stay in this hotel, conveniently located near campus and downtown. Its renovated rooms combine vintage and contemporary decor.  A free continental breakfast is available for guests. 
2424 E Stadium Blvd, Ann Arbor. 734-971-8000
---
If you are having your wedding in Chelsea, stay at this bed and breakfast which is the only lodging downtown Chelsea. Choose from the bed and breakfast's variety of unique rooms such as the carriage house or Glazier Suite. Each morning, guests are served a hot home made breakfast. 
118 E. Middle Street, Chelsea, MI 48118 734-775-2244.
---
Right across the street from campus, the Graduate celebrates the Ann Arbor culture in its decor. Eat and drink at the Allen Rumsey Cocktail Bar or Poindexter Coffee during your stay. The Graduate's ballrooms and third floor terrace are also venues fit for an elegant wedding. 
615 E Huron St, Ann Arbor. 734-769-2200.
---
Residence Inn Downtown Ann Arbor
If you wish to have an extended stay, the Residence Inn Downtown Ann Arbor can accommodate you. For a scenic city view, stay in the Panoramic Studio Suite. Free hot breakfast is available for guests. You can also use one of their five venues for your wedding reception and ceremony. 
120 W Huron St, Ann Arbor. 734-662-9999.
---
Stay in this unique building downtown Ann Arbor for a modern and elegant experience. Enjoy a complimentary breakfast buffet, complimentary New York Times, freshly baked cookies upon check-in, seasonal apples and infused water upon check in and a same business day dry cleaning service. 
300 S Thayer St, Ann Arbor. 800-562-3559.
---
Just two miles from Michigan Stadium, the Hilton Garden Inn can accommodate out of town guests' lodging for your wedding. The hotel has an indoor pool, fitness center and restaurant. The Garden Grille Restaurant and Bar is open Breakfast through dinner serving American cuisine. 
1401 Briarwood Circle, Ann Arbor. 734-327-6400.
---
Relax in this casual hotel with a fully equipped kitchen and indoor pool. When you and your guests wake up, enjoy the hotel's complimentary breakfast. 
1301 Briarwood Circle, Ann Arbor. 734-327-5900.
---
Baxter House Bed and Breakfast
Stay in this turn of the century bed and breakfast in a residential neighborhood near downtown Ann Arbor. The guest rooms are spacious and unique and you can enjoy a farm-fresh homemade breakfast when you wake up.
719 N 4th Ave, Ann Arbor. 734-474-5021.
---
Wedding Planners
Through their flexible wedding planning menu, they use their planning and design services to throw an original and unique event for their clients. In addition to this full service planner, you can get a' la carte services such as comprehensive wedding florals, rehearsal dinner planning, after party planning and brunch planning.
517-442-5520
---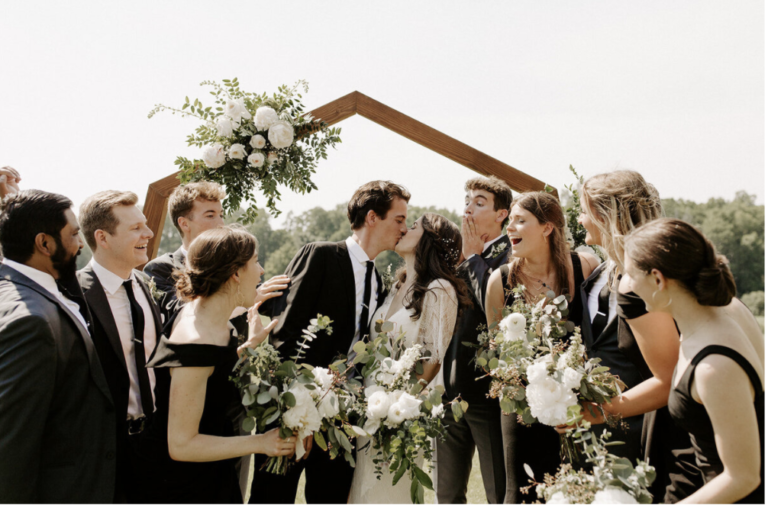 The planners at Luna Soirée have over 10 years of experience curating events for clients. Setting the mood and creating the perfect aesthetic for the couple is a priority with these planners. 
734-276-7551
---
This Honeybee boutique event specializes in wedding planning, day of coordination, elopement and micro-wedding planning and customs made decorations and favors. Rates start at $6,500 for a full wedding planning suite, $4,000 for partial planning options and $1,750 for day of coordination. 
734-203-0246
---
They offer full planning, design and coordination services to clients. Full planning services start at $7,500 which includes start to finish planning and design as well as use of online portal planning tools, budget assistance and full day-of coordination. 
231-350-6382
---
To fit couples of all kinds, they offer a range of planning services including day-of coordination, partial planning and full service planning. Full service planning takes care of wedding planning start to finish for a busy couple. Rates for full service planning starts at $6,800. 
734-330-5573
---
University Michigan graduate Jessica Bennett and her team works closely with her couples to curate their ideal wedding. She has been coordinating events for the last 15 years. 
734-755-1918
---
Shannon wants to bring the client's vision to life and have the wedding be a reflection of the couple. Her strengths are in design and her detail oriented work ethic. A full and partial package is available as well as day-of coordination.  
734-794-3090. 3942 Trade Center Dr, Ann Arbor. 
---
Full Service Salons 
Wedding packages for brides and bridesmaids are available here. The "Bridal Basics" package includes a practice updo, wedding day bridal updo, Wedding day makeup, gel manicure with French polish and a classic pedicure for $375. There is also an upgraded "Pampered Bride" package for $529. The "Pampered Bridesmaid" includes a wedding day updo, wedding day makeup, gel manicure with French polish or Moroccan oil and a signature pedicure. 
734-665-7207. 418 S Wagner Rd, Ann Arbor. 
---
You can get everything you need to get ready for the big day under one roof. Make an appointment with Sophie for your bridal or bridesmaids day-of makeup, hair or nails. 
1829 W Stadium Blvd. Suite 400, Ann Arbor. 734-646-1748
---
They offer on-site hair services to help you and your bridal party get ready. Blowouts, haircuts, coloring, updos and fake lashes are also available through their services. You will be left with fresh looking makeup all day when they use their airbrush foundation. 
3050 Washtenaw Ave. Ste. 205, Ann Arbor. 734-323-4879.
---
Do you have an update to this list or did we miss one of your favorites?  We want to know! Email: annarboreditor@adamsstreetpublishing.com.