Each year, from around mid-May to around June 15th, the Nichols Arboretum's Peony Garden explodes into bloom. Peonies in salmon, coral, peach, magenta, fuchsia, frosted, cotton, and ivory white and pink flowers, brandish their opulent blooms to the public. And, this year the peony garden celebrates its centennial with 100 Years in Bloom.
I caught up with David Michener, the garden's Curator and Research Administrative Lead who has more than 15 years of experience, to discuss this year's bloom and the historical significance of Ann Arbor's peony garden as well as the history of the flower itself.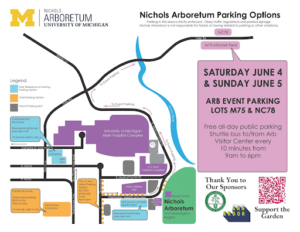 A History of Peonies
Ornamental peonies originated in China. They were traditionally used for medicinal purposes like anxiety, depression, and hormonal balance, and by the Tang Dynasty (618-906 A.D.), appreciated as garden flowers. In the 19th century, the Eastern version of peonies traveled to Europe and then to North America. 
Michener explained that peonies were first seen as a flower of the elite, but over time herbaceous peonies became beloved as low-maintenance plants in rural settings. It wasn't until the 1890's when the middle class developed that increasing numbers of people started to grow gardens that looked beautiful as well as being functional. People increasingly cared about the "look, lushness, and fragrance" of peonies. 
Cultivating Peonies
Of course, peonies were still grown on farms, where people could plant them and basically forget about them. Peonies are known to be undemanding and easy to cultivate, and many animals like deer, rabbits, and groundhogs don't eat them. Ants, on the other hand, often climb into peonies because as they bud, they secrete sugar and ants are attracted to that. In the process, ants often accidentally and successfully de-bug peonies, acting as a natural insect repellent. 
Peonies do well in midwestern states; they like clay soil types as long as they aren't too wet. If you're planning on planting peonies (you can buy heirloom peonies online and pick them up in person from the Arb's Peony Garden on June 1st), make sure that you don't over-water your flowers or plant them where the soils remain damp.  
The Nichols Arboretum Peony Garden
Ann Arbor's peony garden work is highly seasonal. There is almost no upkeep for the garden in the winter, which is amazing to think about since the garden is one of the largest collections–with around 800 peonies and 10,000 flowers–of herbaceous peonies in North America. The collection was established in 1922 and in large part the plants donated by Dr. W. E. Upjohn, who was the founder of Upjohn Pharmaceutical Company. The Matthaei Botanical Gardens and Nichols Arboretum's Peony Garden is located on University of Michigan's central campus near the University of Michigan Hospital.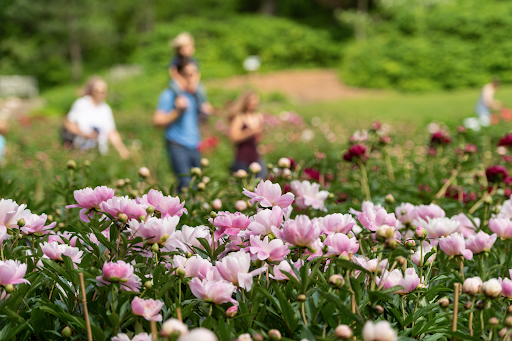 Events at the Garden
Don't miss the centennial celebration of the garden, happening June 4th-5th! The events are all free and open to the public. 
There will also be free public parking by the garden (lots M75 and NC78) and shuttle buses to and from the Arb Visitor Center every ten minutes from 9-6pm both days. 
Look forward to events like Korean choral works commissioned specifically for the centennial and cut flower shows. As David Michener says, "Enjoy…Immerse…Experience a floral bath for the spirit." The heat of the sun tends to lessen the fragrance of the flowers, so Michener suggests that attendees visit the garden early in the morning or late in the day when the fragrance is at its strongest.      
Nichols Arboretum will also be hosting another year of Shakespeare in the Arb with several dates throughout June. 
Facts about Peonies:
The name "peony" comes from the Greek character Paeon, who was a student of the Greek god Asclepius, the god of medicine and healing. 

In China, peony petals are used in desserts, drinks, and salads. 

Peonies are said to represent wealth and honor.

Peonies are the Indiana state flower. 
Nichols Arboretum Peony Garden. 1610 Washington Heights, Ann Arbor. peony.mbgna.umich.edu. Free entry, open sunrise to sunset.