The "LIVE Happy Hour" on Friday nights from 6-9 p.m. at LIVE Nightclub, 102 South First Street, is still reportedly packing crowds months after an avalanche of national media coverage from a New York Times article.
The event is sometimes affectionately referred to as "Geezer Happy Hour" because many of the attendees who have been dancing for decades have reached their "golden years." They reportedly continued until the end of June, and are taking July off. Usually, they take the whole summer off, but have added more summer dates due to their popularity.
People from near and far now flock to LIVE Nightclub event which offers good food, dancing and sometimes even true love.
We were previously instructed by regulars to arrive early for a table, so on our visit, we arrived before 6 p.m. and had a table to sit and enjoy a good dinner before the festivities. 
We ordered a couple of drinks and shared pork bao (Chinese buns) topped with kimchi (Korean pickled cabbage), "Koreatown" cauliflower salad and lobster rangoon.
All the food was far above usual bar food, and closer to fine dining, with unique twists on dishes such as gochujang hot sauce and perfectly marinated kimchi.
Overall, the food was thoughtfully and uniquely presented, and mindfully arranged.
The booths are rather large, so as it began to fill up, other people joined us.
When the music started, we danced to Al Jaquez band, which played old-time rock and roll covers as well as more bluesy songs. We slow-danced and looked into each other's eyes. All the music was enjoyable to dance to and the musicians are highly skilled.
We also recognized a couple we know from the gym, John and Carol Brent, who confessed to attending the LIVE Ann Arbor Happy Hour just about every week.
John Brent, a 69-year-old attorney, has lived in Ann Arbor since 1979.
Brent said he always loved to dance and has been attending the Ann Arbor LIVE Happy Hour since 2014.
"I have loved to dance since middle school (in Saginaw) and really great sock hops in high school (outside of Chicago)," Brent said. "Although I didn't know Carol during my high school years, she tells me that she also danced at sock hops at Aliquippa High School (in Pennsylvania) where the bands played a lot of Motown."
The Brents' dancing continued when relocating to Ann Arbor. Their "Geezer" group has actually been going on at various venues for quite some time. They started dancing together when everyone was young and they moved to various venues over the years, including places like The Blind Pig, the Heidelberg, and the Cavern Club.
"When we moved to Ann Arbor, I became close with some 'music friends' and we'd meet at the various venues mentioned in the New York Times article, especially The Blind Pig where we would dance to some great local and national talent for hours. Many of the attendees there, and at some of the other Ann Arbor venues, now show up at LIVE."
"We love live music, and especially the dancing that goes with it which is invigorating and liberating," Brent said. "Plus, we have made some good friends there."
Some people have even met and discovered true love because of LIVE Happy Hour. One couple even planning a wedding.
Marti Bommarito is recently retired from leading wine tours in California and is a wine educator. She met her future husband at the LIVE Happy Hour and is currently planning on moving to Ann Arbor from Detroit.
"At the event, a mutual friend introduced us and we danced, we talked; we really enjoyed each other's company. We are so glad we met that night," said Larry Bates, Bommarito's new significant other.
Bommarito met Ann Arborite and life coach, Larry Bates, at the LIVE Happy Hour. Bates was raised in Ann Arbor from elementary school through attending the University of Michigan.
Bommarito recommends the Friday night LIVE Happy Hour to all.
"Great musicians, great music that is very danceable, groovy people in the same place at one time, accepting a dance and taking a chance," Bommerito said.
She recommended guests who want to sit to show up early.
"The band and genres are diverse and change weekly, so there is always something that appeals to everyone," she said.
There is no cover for these shows, but they do pass around a donations container. The Ann Arbor Happy Hour was off in July and returns on August 11 with Chris Casello.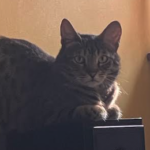 Donna Marie Iadipaolo is a writer, journalist and State of Michigan certified teacher, since 1990. Writing for national publications like The Village Voice, Ear Magazine of New Music, Insurance & Technology, and The Street. Writing locally for many local publications, including Current Magazine, Ann Arbor Family, and The Ann Arbor Independent. Her undergraduate degree is from the University of Michigan, Ann Arbor, where she graduated with an honors bachelor's degree and three teacher certificate majors: mathematics, social sciences, english. also earned three graduate degrees in Master of Science, Master of Arts, and Education Specialist Degree.