PTD Productions is a nonprofit Ypsilanti theater that has been around for almost 30 years.
"There are many Ann Arbor-ites among our regular patrons," said Marie Jones, president of the PTD board. "We recognize that there are many choices for entertainment and great theatre in Ann Arbor which may keep more residents from coming to the Riverside Arts Center."
Jones has been with PTD for 26 years, shortly after PTD's beginning.
"PTD was created in 1995 when the call went out by the Ypsilanti Downtown Development Authority for art performances," Jones said. "It was the beginning of the Riverside Arts Center as a performance venue and of PTD Productions."
Its mission is one of promoting the arts and its culture, according to Jones.
"PTD is committed to nurturing the cultural growth of our community by providing live theater and encouraging everyone to participate as producers, directors, playwrights, actors, crew, stagehands, front-of-house staff, refreshment sellers, and in myriad additional roles."
Curious as to what PTD stands for?  Some may remember the old series, "The Little Rascals."
"The name of our organization is PTD Productions," Jones said. "It stands for 'Petie The Dog,' and is a reference to the dog in 'The Little Rascals' movie series from 1938."
PTD Productions is a 501(c)(3) nonprofit organization. As with any nonprofit, funding the organization is sometimes a challenge, coming from various sources and relying on volunteers.
"We depend on ticket sales, ad revenue, corporate sponsorships, generous patron donations, and as Blanche DuBois would say, 'the kindness of strangers,'" Jones said. "It's a struggle, but we always manage to mount the next production. As for the people who work there, we are an all-volunteer organization, so except for the board and officers, the numbers and jobs are fluid. It is the hard work of all of the volunteers over the years that makes accomplishing our mission possible."
PTD Productions encourages everyone to come out to their next show, which opened May 11.
"Our next show is 'The Artwork is Behind You', by Claire Greising. We are very excited to be producing the world premier," said Jones. "Claire Greising will be coming from New York for opening night, and we will be hosting a talkback for our audience. The play is about art, love, identity, the secrets we carry with us, and the wisdom two generations can share. The show contains mature language."
Other productions will follow.
"We host a four-show season, and we are very excited about the following two shows that round out our season. They are 'Perfect Arrangement' by Topher Payne, and 'Escanaba in Love' by Jeff Daniels," Jones said.
Audience members reportedly have positive reviews of PTD productions.
"It is always a treat to talk to patrons in the lobby after they have seen their first PTD performance," Jones said. "They are always pleasantly surprised by such high production standards and share their enjoyment of the experience. We are also known in the theater community for our amazing sets. 'ARTWORK' has an appropriately minimalist set, that also displays the creativity of our team."
Jones said she and her team continue to strive to make the space a safe and comfortable environment for all.
"All of us, and there have been so many, since 1995, who not only strive to accomplish our mission of creating a top theatrical experience for our community and for those creating that experience, but also feel that it is important to maintain the inclusive and safe environment of the PTD family," Jones said. "We value each member's contributions, and what we have created as an environment in which to grow and to develop new skills."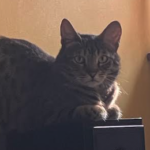 Donna Marie Iadipaolo is a writer, journalist, and State of Michigan certified teacher, since 1990. She has written for national publications like The Village Voice, Ear Magazine of New Music, Insurance & Technology, and TheStreet.
She is now writing locally for many publications, including Current Magazine, Ann Arbor Family, and the Ann Arbor Independent. Her undergraduate degree is from the University of Michigan, Ann Arbor, where she graduated with an honors bachelor's degree and three teacher certificate majors: mathematics, social sciences, English. She also earned three graduate degrees in Master of Science, Master of Arts, and Education Specialist Degree.