There's only one place in the Metro Detroit area where Alice Cooper, Elvira, Nebula, and Doctor Who will be under one roof. 
During the weekend of Oct. 14-16, legions of pop culture aficionados and comic book geeks will flock to the Suburban Collection Showplace in Novi to attend the Motor City Comic Con (see sidebar).
Other guests include "M*A*S*H" alumni Jamie Farr and Loretta Swit; "Supernatural" stalwarts Jim Beaver, Steven Williams, Alaina Huffman, and Detroit native Christian Keyes; Clive Standen of "Taken"; "Hocus Pocus" cast members Omri Katz, Jason Marsden, and Vinessa Shaw; among others. 
Also appearing this weekend is the "Black Panther: Wakanda Forever" Lexus LC500 Convertible Car, which will be on display for guests. This car, which was announced this week during Monday Night Football, will promote the film's Nov. 11 release. This film, which is part of the Marvel Cinematic Universe, is a sequel to 2018's "Black Panther," which was a blockbuster hit.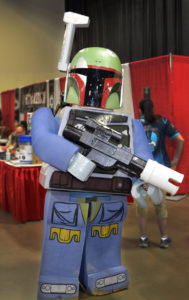 This is Motor City's second show this year, the previous one being in May. This is the second consecutive year Motor City has had two shows/per year, the last time being 2006, according to a spokesperson.
"It's great to have (Motor City) back for a second time this year," said owner Michael Goldman. "We have a great lineup of actors and comic creators this fall. We are looking forward to showcasing all of the great panel discussions and opportunities with our fans."
Motor City Comic Con Survival Guide
In order to make the most of your experience at Oct. 14-16's Motor City Comic Con in Novi's Suburban Collection Showplace, follow these tips.
1). Check the official website: Before you leave for Motor City, check out the official website for the latest updates, FAQs, exhibit floorplan, autograph prices, panel times and COVID-19 protocols. 
2). Bring a mask just in case: While COVID-19 protocols have relaxed somewhat, the coronavirus is still very real. It is highly recommended that you bring a mask to wear in the areas experiencing heavy traffic if you cannot practice safe social distancing. The mask is for everyone's benefit and is a good precaution to help reduce the chance of spreading infection.   
3). Be considerate of your fellow guests: In the wake of COVID-19, personal hygiene cannot be emphasized enough. In fact, it's essential. Be sure to bathe before coming to Motor City. This may sound like common sense and common courtesy, but there have been people who do not take care of their daily ablutions and smell rank. That is not pleasing to the nose, especially since you'll probably be waiting in line for a long time in a venue where there will be thousands of people. That leads to the next tip.
4). Protect your health: Take an immune-boosting vitamin supplement such as Airborne to protect you from germs and dust. You cannot get so many people under one roof with that many germs and not expect to catch something. Be sure to bring hand-sanitizer and aspirin (see No. 7). 
5). Have a plan: Go through the schedule, highlight who/what you most want to see/do, see where there are conflicts and figure out the venue's geography. This way you're not running around all over the place, which will waste a lot of time and energy.
6). Be sure to budget: Between the price of parking and admission and swag you wish to purchase, things can get expensive very quickly. Before you know it, you'll have burned through your budget. Know what you wish to purchase beforehand but make allowances for impulse buys as well (because it will happen). Some celebrities will work on a cash only basis, so make sure your wallet is in a safe place on your person at all times to prevent some light-fingered individual from picking your pocket.
7). Bring provisions and supplies: Make sure you bring a backpack to carry your purchases and the like. 
Bring a refillable water bottle to stay hydrated throughout the day. It's essential.  

Bring snacks, such as granola bars and power bars. There are food vendors present, but if you're on a budget and/or don't wish to wait in line, make sure you have snacks on hand, especially if you're bringing young kids. 

Bring a phone charger because your phone will soon run out of juice from all the texting, tweeting, and photographing you'll be doing. 

Bring a mini-bottle of Advil or Tylenol as a precaution. 

Bring hand-sanitizer.

Bring braces for ankles and knees (if applicable).

Bring an art tube and a hard plastic sleeve to protect your memorabilia from getting damaged.  
8). Wear comfortable shoes: Motor City isn't the time or place to break in new shoes. You will be doing plenty of walking on a hard concrete floor, so make sure you have comfortable shoes. If you're cosplaying, make sure you have a change of shoes. A lot of cosplayers have removed their high-heeled stiletto boots and walked around in their bare or stocking feet, which presents another set of problems, such as stepping on something sharp.
9). If you're wearing a costume: Make sure your costume is practical and not too revealing and/or provocative since this is an all-ages show. With so many people attending, it can get quite hot, which is something to keep in mind when wearing a costume. Again, be smart about your footwear. 
10). Be sure to rest: Pace yourself. As stated above, you will be walking a lot (maybe for miles when all's said and done). Take time out of the day to rest. There are tables and chairs in the food court. There are also chairs in the Hyatt Place Detroit/Novi hotel, which is connected to the Suburban Collection Showplace, where the panels will occur. 
11). Expect to wait in line: It's inevitable. You will be waiting in line for more than an hour in some cases, especially with the caliber of celebrities (Alice Cooper, Elvira, Karen Gillan, Matt Smith) attending. That's the nature of the beast. If you don't want to wait that long, be sure to get there early. However, waiting in line doesn't have to be a bad thing. Many fans have bonded with other fans that way. Further, some have formed friendships from waiting in line. 
12). Be flexible: Even if you have a plan, circumstances beyond your control do happen – a guest might cancel at the very last minute (it's been known to happen), you might not get to see a celebrity or attend a particular panel. If so, don't let it ruin your day. Reassess what you can do.  
13). When you meet your favorite celebrity/artist: Be mindful of the line of people behind you, especially if it's a long line. They've come to see this individual too and their time is just as valuable as yours. Make your audience with them brief (don't exceed 3-5 minutes, if not shorter) and don't bombard them with questions from a particular scene from a particular episode from 25 years ago. Be considerate. If you're going to heckle them, there's no point in seeing them in the first place. Other than that, have fun. 
The Motor City Comic Con will be held at the Suburban Collection Showplace, located at 46100 Grand River Ave. in Novi, on the following days and times:
Friday, Oct. 14, from noon to 7 p.m.

Saturday, Oct. 15, from 10 a.m. to 7 p.m.

Sunday, Oct. 16, from 10 a.m. to 5 p.m. 
The price of tickets and packages range from $10 to $249. Kids (ages 5 and under) attend for free all weekend. Parking costs $10/day. An off-site shuttle is available at Novi Middle School, located at 49000 W. 11 Mile Rd., which costs $2 round-trip (drop-off and pick-up). The price of autographs and photos ops are NOT included in the price of tickets. They are sold separately and vary per celebrity guest. For more information or to purchase tickets, visit www.motorcitycomiccon.com.