Before it ends on June 7, you won't want to miss the current art exhibit titled "The Ukrainian Brush" at Chris Nordin Studios, 117 East Ann Street.
Twenty-percent of the profit will be donated to Hearts for Ukraine and will go towards acquiring and delivering medical supplies for hospitals, shelters, and orphanages.
Nataliya Pryzant is one of the three artists featured in the exhibit.
Pryzant has been an art instructor in her own studio, Rush in Art Academy, for twenty years, as well as at Rudolph Steiner High School for 22 years. She has lived in Ann Arbor for 25 years and immigrated from Ukraine in 1998.
Along with others, she started this exhibit to help support the people of Ukraine.
"The impetus was to fundraise for my country of origin, Ukraine, in a war with the vicious Russian dictator," Pryzant said.
Pryzant's brother, Vitaliy Pryzant, and his wife, Ganna Prymakova, are the other two artists featured in the exhibit. The married couple recently fled the war in Ukraine.
"It is important to know that we all fight a war for humanity and you can be part of it," Nataliya Pryzant said. "Art plays a great role in any war since it is a great weapon that reaches people's hearts."
She said she feels that the war has transformed these three artists by their use of more metaphoric language, with clear messages, and stronger colors.
"The best artwork is done on the peak of the artist's emotions," Nataliya Pryzant said. "What doesn't kill us makes us stronger. Help those artists to survive here in the U.S. and still help their country with collected funds [from purchased art] and help the world be better and may peace come to everybody's home."
Nataliya and Vitaliy Pryzant followed the steps of their father Lev Pryzant, a well-known Ukrainian artist who invented watercolor "veil painting" in Ukraine.
Lev Pryzant was also a fantastic art teacher who brought up the huge generation of artists in Ukraine. Ganna Prymakova was one of his students.
The art media presented in this exhibition vary from acrylic painting by Ganna Prymakova and Vitaliy Pryzant to mixed media artwork by Nataliya Pryzant.
Some of Nataliya Pryzant's pieces integrate fabric with the sunflowers, Ukraine's national flower.
Vitaliy Pryzant's subject includes abstract, almost mathematical spirals. Ganna Prymakova's pieces include colors and flowers.
All three artists have graduated with Master's degrees in art from the Ukrainian Academy of Fine Art, located in Kiev.
The owner of the studio, Chris Nordin, opened the gallery in May 2022.
Nordin is a permanent resident artist working in glass, metal, and wood.
"The subject matter [of the exhibit] ranges from personal expressionism to the flowers of the Ukraine," Nordin said
Nordin said community response has so far been amazing, especially for the opening reception that was on April 28. Many people have already purchased pieces of art.
Chris Nordin Studios Gallery is located in Ann Arbor's Kerrytown. The gallery displays art created by Chris Nordin as well as other local and national artists.
The gallery offers 3D and 2D artwork for the wall and pedestal along with paintings and photographs.
"A creative portal for designers, the space offers gallery exhibitions throughout the year as well as interior designer discounts. The experience that the gallery offers is not limited to individual pieces of fine art," Nordin said.
Nordin has over 30 years of experience and specializes in custom healthcare, hospitality, corporate, and residential projects, as well as donor walls, lighting, and custom residential installations.  His wife and son are artists as well.
View the website to enjoy his diverse portfolio at chrisnordinstudios.com.
RELATED: Ann Arbor Gallery Features Art Therapy by Refugee Ukrainian Children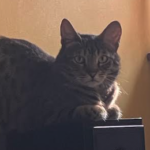 Donna Marie Iadipaolo is a writer, journalist and State of Michigan certified teacher, since 1990. Writing for national publications like The Village Voice, Ear Magazine of New Music, Insurance & Technology, and The Street. Writing locally for many local publications, including Current Magazine, Ann Arbor Family, and The Ann Arbor Independent. Her undergraduate degree is from the University of Michigan, Ann Arbor, where she graduated with an honors bachelor's degree and three teacher certificate majors: mathematics, social sciences, english. also earned three graduate degrees in Master of Science, Master of Arts, and Education Specialist Degree.